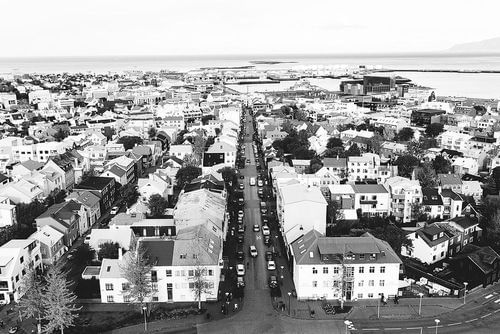 Attribution: Tim Wright timdwright, CC0, via Wikimedia Commons
Reykjavík
Reykjavík (/ˈreɪkjəvɪk, -viːk/ RAYK-yə-vik, -⁠veek;[4] Icelandic: [ˈreiːcaˌviːk] ⓘ) is the capital and largest city of Iceland. It is located in southwestern Iceland, on the southern shore of Faxaflói bay. Its latitude is 64°08' N, making it the world's northernmost capital of a sovereign state.[a] Reykjavík has a population of around 140,000 as of 2023 (up from 121,822 in 2015). The Capital Region has a population of around 248,000.[5]
Reykjavík is believed to be the location of the first permanent settlement in Iceland, which, according to Landnámabók, was established by Ingólfr Arnarson in 874 CE. Until the 18th century, there was no urban development in the city location. The city was officially founded in 1786 as a trading town and grew steadily over the following decades, as it transformed into a regional and later national centre of commerce, population, and governmental activities.
Reykjavík is the centre of Iceland's cultural, economic, and governmental activity, and is a popular tourist destination among foreigners. It is among the cleanest, greenest, and safest cities in the world.[6][7][8]
Summary
Reykjavík has Sun in Leo 4th House, Moon in Gemini 12th House, with Cancer Rising.
Rodden Rating
The accuracy of the natal data for this archive is rated as B
Sabian Symbols
Influenced by Baroque
Natal Data
1786-08-18 00:17:00 GMT
64° 8′ 49.2″ N 21° 56′ 26.7″ W
Reykjavík, Iceland
1x Records. Last Queried Dec 2, 2023 12:06 AM GMT