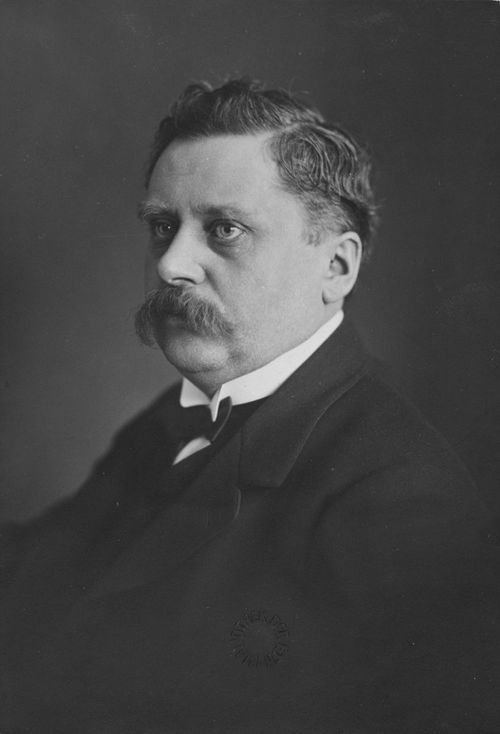 Alfred Werner
Alfred Werner (12 December 1866 – 15 November 1919) was a Swiss chemist who was a student at ETH Zurich and a professor at the University of Zurich. He won the Nobel Prize in Chemistry in 1913 for proposing the octahedral configuration of transition metal complexes. Werner developed the basis for modern coordination chemistry. He was the first inorganic chemist to win the Nobel Prize, and the only one prior to 1973.[2]
Werner was born in 1866 in Mulhouse, Alsace (which was then part of France, but which was annexed by Germany in 1871). He was raised as Roman Catholic.[3] He was the fourth and last child of Jean-Adam Werner, a foundry worker, and his second wife, Salomé Jeanette Werner, who originated from a wealthy family.[3] He went to Switzerland to study chemistry at the Swiss Federal Institute (polytechnikum) in Zurich. Still, since this institute was not empowered to grant doctorates until 1909, Werner received a doctorate formally from the University of Zürich in 1890.[3] After postdoctoral study in Paris, he returned to the Swiss Federal Institute to teach (1892). In 1893 he moved to the University of Zurich, where he became a professor in 1895. In 1894 he became a Swiss citizen.[3]
In his last year, he suffered from a general, progressive, degenerative arteriosclerosis, especially of the brain, aggravated by years of excessive drinking and overwork. He died in a psychiatric hospital in Zurich.[3]
Werner died on 15 November 1919 of arteriosclerosis in Zürich at the age of 52.
Summary
Alfred Werner has Sun in Sagittarius 3rd House, Moon in Aquarius 5th House, with Virgo Rising.
Rodden Rating
The accuracy of the natal data for this archive is rated as AA
Analysis for Alfred Werner
Sabian Symbols
Influenced by Indian Phad painting
Natal Data
1866-12-12 23:30:00 GMT
47° 45′ 3.0″ N 7° 20′ 9.2″ E
Mulhouse, France
1x Records. Last Queried Dec 4, 2023 12:07 AM GMT