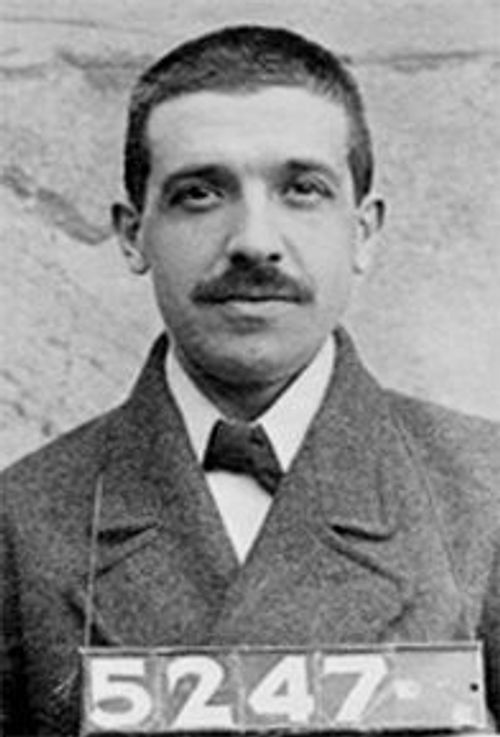 Attribution: US Goverment, Public domain, via Wikimedia Commons
Charles Ponzi
Charles Ponzi (/ˈpɒnzi/, Italian: [ˈpontsi]; born Carlo Pietro Giovanni Guglielmo Tebaldo Ponzi; March 3, 1882 – January 15, 1949) was an Italian swindler and con artist who operated in the U.S. and Canada. His aliases included Charles Ponci, Carlo, and Charles P. Bianchi.[1]
Born in Lugo, Italy, he became known in the early 1920s as a swindler in North America for his money-making scheme. He promised clients a 50% profit within 45 days or 100% profit within 90 days, by buying discounted postal reply coupons in other countries and redeeming them at face value in the U.S. as a form of arbitrage.[1]: 1 [2] In reality, Ponzi was paying earlier investors using the investments of later investors. While this type of fraudulent investment scheme was not invented by Ponzi, it became so identified with him that it now is referred to as a "Ponzi scheme". His scheme ran for over a year before it collapsed, costing his "investors" $20 million.
Ponzi may have been inspired by the scheme of William W. Miller (also known as "520% Miller"), a Brooklyn book-keeper who in 1899 used a similar deception to take in $1 million (approximately $35 million in 2022).[3][4]
Summary
Charles Ponzi has Sun in Pisces 4th House, Moon in Virgo 10th House, with Scorpio Rising.
Rodden Rating
The accuracy of the natal data for this archive is rated as AA.
Analysis for Charles Ponzi
Analysis Coming Soon ....
Sabian Symbols
Influenced by Traditional Japanese Art
Natal Data
1882-03-03 23:15:00 LMT
44° 28′ 50.6″ N 11° 53′ 46.8″ E
48022 Lugo, Province of Ravenna, Italy
1x Records. Last Queried: Sep 23, 2023 12:08 AM GMT