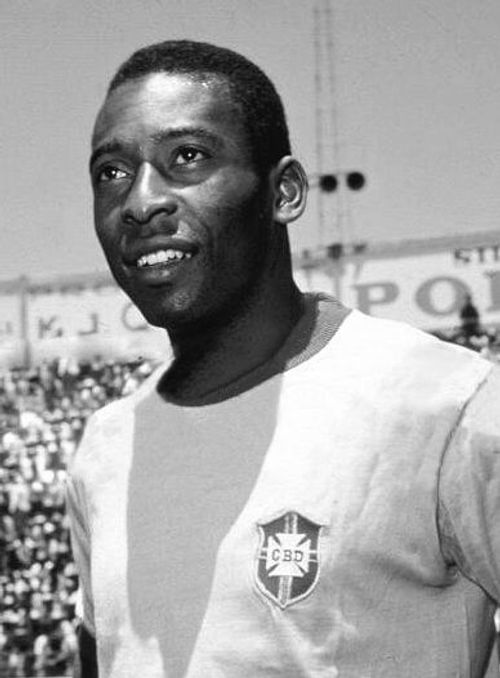 Attribution: El Gráfico, Public domain, via Wikimedia Commons
Pelé
Edson Arantes do Nascimento (Brazilian Portuguese: [ˈɛdsõ aˈɾɐ̃tʃiz du nasiˈmẽtu]; 23 October 1940 – 29 December 2022), better known by his nickname Pelé (Portuguese pronunciation: [peˈlɛ]), was a Brazilian professional footballer who played as a forward. Widely regarded as one of the greatest players of all time, he was among the most successful and popular sports figures of the 20th century.[2][3] In 1999, he was named Athlete of the Century by the International Olympic Committee and was included in the Time list of the 100 most important people of the 20th century. In 2000, Pelé was voted World Player of the Century by the International Federation of Football History & Statistics (IFFHS) and was one of the two joint winners of the FIFA Player of the Century. His 1,279 goals in 1,363 games, which includes friendlies, is recognised as a Guinness World Record.[4]
Pelé began playing for Santos at age 15 and the Brazil national team at 16. During his international career, he won three FIFA World Cups: 1958, 1962 and 1970, the only player to do so and the youngest player to win a World Cup (17). He was nicknamed O Rei (The King) following the 1958 tournament. Pelé is the joint-top goalscorer for Brazil with 77 goals in 92 games. At the club level, he was Santos's all-time top goalscorer with 643 goals in 659 games. In a golden era for Santos, he led the club to the 1962 and 1963 Copa Libertadores, and to the 1962 and 1963 Intercontinental Cup. Credited with connecting the phrase "The Beautiful Game" with football, Pelé's "electrifying play and penchant for spectacular goals" made him a star around the world, and his teams toured internationally to take full advantage of his popularity.[5] During his playing days, Pelé was for a period the best-paid athlete in the world. After retiring in 1977, Pelé was a worldwide ambassador for football and made many acting and commercial ventures. In 2010, he was named the honorary president of the New York Cosmos.
Averaging almost a goal per game throughout his career, Pelé was adept at striking the ball with either foot in addition to anticipating his opponents' movements on the field. While predominantly a striker, he could also drop deep and take on a playmaking role, providing assists with his vision and passing ability, and he would also use his dribbling skills to go past opponents. In Brazil, he was hailed as a national hero for his accomplishments in football and for his outspoken support of policies that improve the social conditions of the poor. His emergence at the 1958 World Cup, where he became a black global sporting star, was a source of inspiration.[6] Throughout his career and in his retirement, Pelé received numerous individual and team awards for his performance on the field, his record-breaking achievements, and his legacy in the sport.
Summary
Pelé has Sun in Libra 2nd House, Moon in Gemini 10th House, with Virgo Rising.
Rodden Rating
The accuracy of the natal data for this archive is rated as AA
Sabian Symbols
Influenced by Baroque
Natal Data
1940-10-21 03:00:00 LMT
21° 41′ 50.4″ S 45° 15′ 22.5″ W
Três Corações, State of Minas Gerais, 37410-000, Brazil
1x Records. Last Queried Dec 2, 2023 12:04 AM GMT