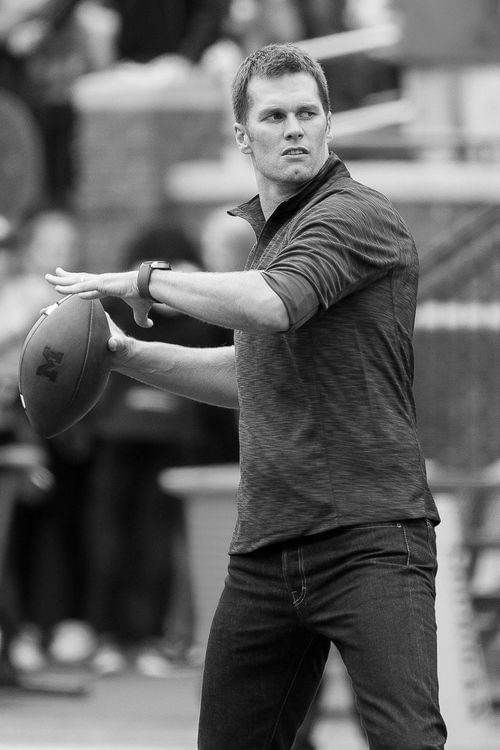 Tom Brady
Thomas Edward Patrick Brady Jr. (born August 3, 1977) is a former American football quarterback who played in the National Football League (NFL) for 23 seasons. He spent his first 20 seasons with the New England Patriots, where he was a central contributor to the franchise's dynasty from 2001 to 2019. In his final three seasons, he was a member of the Tampa Bay Buccaneers. Brady is widely regarded as the greatest quarterback of all time.[1]
After playing college football at the University of Michigan, Brady was selected 199th overall by the Patriots in the sixth round of the 2000 NFL Draft, later earning him a reputation as the NFL's biggest draft steal.[2][3][4] He became the starting quarterback during his second season, which saw the Patriots win their first Super Bowl title in Super Bowl XXXVI. As the team's primary starter for 18 seasons,[a] Brady led the Patriots to 17 division titles (including 11 consecutive from 2009 to 2019), 13 AFC Championship Games (including eight consecutive from 2011 to 2018), nine Super Bowl appearances, and six Super Bowl titles, all NFL records for a player and franchise.[b] He joined the Buccaneers in 2020 and won Super Bowl LV, extending his individual records to 10 Super Bowl appearances and seven victories.[7] Following his retirement, Brady will join Fox Sports as their lead color commentator for their NFL broadcasts.[8]
Brady holds nearly every major quarterback record, including most career passing yards, completions, touchdown passes, and games started. He is the NFL leader in career quarterback wins, quarterback regular season wins, quarterback playoff wins, and Super Bowl Most Valuable Player (MVP) Awards, as well as being the only Super Bowl MVP for two different franchises. Additional accolades held by Brady include the most Pro Bowl selections and the first unanimous NFL MVP. The only quarterback to win a Super Bowl in three separate decades, Brady is also noted for the longevity of his success. He is the oldest NFL MVP at age 40, the oldest Super Bowl MVP at age 43, and the oldest quarterback selected to the Pro Bowl at age 44.[9][10] Brady is the only NFL quarterback named to two all-decade teams (2000s and 2010s)[11] and was unanimously named to the 100th Anniversary All-Time Team in 2019.
Summary
Tom Brady has Sun in Leo 10th House, Moon in Aries 6th House, with Libra Rising.
Rodden Rating
The accuracy of the natal data for this archive is rated as AA
Sabian Symbols
Influenced by Baroque
Natal Data
1977-08-03 11:48:00 LMT
37° 33′ 46.8″ N 122° 19′ 31.9″ W
San Mateo, CA, USA
1x Records. Last Queried Dec 2, 2023 12:04 AM GMT