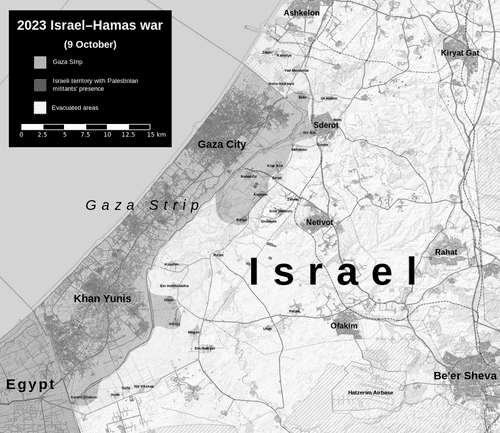 2023 Israel–Hamas war
An armed conflict between Hamas-led Palestinian militant groups[31][i] and Israeli military forces began on 7 October 2023,[32] with a Hamas attack on southern Israel that killed 1,400 Israelis and took 200 others hostage in a single day.[33] Israeli military forces retaliated with extensive strikes against targets in the Gaza Strip.[34] By the end of October, more than 1,500 Israelis[35] and more than 8,000 Gazans had been killed, including more than 3,000 children,[36] and Israel launched an invasion of Gaza.[37] The war was described by UNICEF as a "graveyard" for children.[38]
The Hamas attack began in the morning of 7 October with a barrage of over 5,000 rockets launched from the Gaza Strip against Israel,[39] while some 3,000 Palestinian militants breached the Gaza–Israel barrier, killing civilians in over a dozen massacres and setting fire to their homes, and attacking Israel Defense Forces (IDF) military bases near the Gaza Strip.[40] At least 44 nations, mostly Western, characterized the surprise incursion as a terrorist attack[41]. Meanwhile, Hamas declared that its attack was a retaliation to the "desecration of the Al-Aqsa Mosque," the Gaza Strip blockade, Israeli settlements and settler aggression.[42][43][44]
The current war, the fiercest since the Yom Kippur War, is the fifth war in the Gaza strip, and part of the Israeli–Palestinian conflict.[45] In 2023, before the offensive started, an uptick in Israeli–Palestinian violence saw at least 247 Palestinians, 32 Israelis and two foreigners killed.[46][47][48]
According to the Israeli government, over 1,400 Israelis and foreigners, mostly civilians, were killed on October 7,[21] including 260 people at a music festival in Re'im.[49][50][51] Over 200 civilians and captured Israeli soldiers were taken as hostages to the Gaza Strip.[52][53][54][55] After clearing Hamas forces from southern Israel, the IDF conducted airstrikes in the Gaza Strip.[56] According to the Gaza Health Ministry, as of 31 October over 8,500 Palestinians had been killed,[57] mostly civilians, including more than 50 UNRWA staff.[58][17] A total of 6,000 bombs were dropped by Israel during the first six days of the conflict, double the number of bombs employed by a US-led coalition against ISIS over one month.[59]
There has been widespread killing of civilians, and human rights groups and a panel of United Nations special rapporteurs have accused both Israel and Hamas of war crimes.[60][61] Fears of a humanitarian crisis were heightened on 11 October, after Israel announced it would cut off food, water, electricity, and fuel supplies to Gaza, on top of the existing blockade by both Egypt and Israel.[62][63] Israel urged 1.1 million Gazans to evacuate northern Gaza, while Hamas called on residents to stay in their homes and, according to the IDF, blocked roads leading south.[64][65][66] The UN reported that around a million Palestinians, nearly half of Gaza's population, have been internally displaced.[67]
A vote at the UN General Assembly on 27 October saw an overwhelming majority of nations calling for an immediate humanitarian ceasefire.[68][69][70] On 28 October, when Israel began its ground invasion of Gaza, aid agencies renewed warnings of an unfolding humanitarian catastrophe in Gaza.[71][72][73]
Source: https://en.wikipedia.org/wiki/2023_Israel%E2%80%93Hamas_war
Summary
2023 Israel–Hamas war has Sun in Libra 1st House, Moon in Cancer 10th House, with Libra Rising.
Rodden Rating
The accuracy of the natal data for this archive is rated as C
Analysis for 2023 Israel–Hamas war
Sabian Symbols
Influenced by Baroque
Natal Data
2023-10-07 06:30:00 LMT
31° 23′ 10.2″ N 34° 27′ 31.8″ E
Re'im, Israel
1x Records. Last Queried Dec 2, 2023 12:07 AM GMT