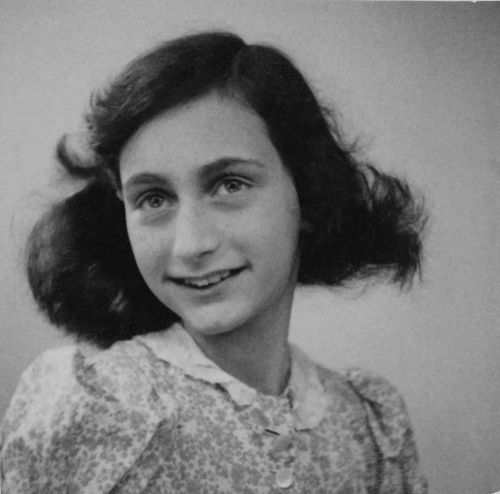 Attribution: Unknown photographer, Public domain, via Wikimedia Commons
Anne Frank
Annelies Marie Frank (German: [ˈanə(liːs maˈʁiː) ˈfʁaŋk] (listen), Dutch: [ˌɑnəˈlis maːˈri ˈfrɑŋk, ˈɑnə ˈfrɑŋk] (listen); 12 June 1929 – c. February or March 1945)[1] was a German-born Jewish girl who kept a diary in which she documented life in hiding under Nazi persecution. She is a celebrated diarist who described everyday life from her family hiding place in an Amsterdam attic. One of the most-discussed Jewish victims of the Holocaust, she gained fame posthumously with the 1947 publication of The Diary of a Young Girl (originally Het Achterhuis in Dutch, lit. 'the back house'; English: The Secret Annex), in which she documents her life in hiding from 1942 to 1944, during the German occupation of the Netherlands in World War II. It is one of the world's best-known books and has been the basis for several plays and films.
Anne was born in Frankfurt, Germany. In 1934, when she was four and a half, her family moved to Amsterdam, Netherlands, after Adolf Hitler and the Nazi Party gained control over Germany. She spent most of her life in or around Amsterdam. By May 1940, the Franks were trapped in Amsterdam by the German occupation of the Netherlands. Anne lost her German citizenship in 1941 and became stateless. As persecutions of the Jewish population increased in July 1942, they went into hiding in concealed rooms behind a bookcase in the building where Anne's father, Otto Frank, worked. Until the family's arrest by the Gestapo on 4 August 1944, Anne kept a diary she had received as a birthday present, and wrote in it regularly.
Following their arrest, the Franks were transported to concentration camps. On 1 November 1944,[2] Anne and her sister, Margot, were transferred from Auschwitz to Bergen-Belsen concentration camp, where they died (probably of typhus) a few months later. They were originally estimated by the Red Cross to have died in March, with Dutch authorities setting 31 March as the official date. Later research has suggested they died in February or early March.
Otto, the only survivor of the Frank family, returned to Amsterdam after the war to find that Anne's diary had been saved by his female secretaries, Miep Gies and Bep Voskuijl. He decided to fulfil Anne's greatest wish to become a writer and publish her diary in 1947.[3] It was translated from its original Dutch version and first published in English in 1952 as The Diary of a Young Girl, and has since been translated into over 70 languages.[4]
Summary
Anne Frank has Sun in Gemini 11th House, Moon in Leo 2nd House, with Leo Rising.
Rodden Rating
The accuracy of the natal data for this archive is rated as AA
Sabian Symbols
Influenced by Pop Art
Natal Data
1929-06-12 07:30:00 LMT
50° 6′ 39.3″ N 8° 40′ 55.7″ E
Frankfurt, Germany
1x Records. Last Queried Dec 2, 2023 12:05 AM GMT