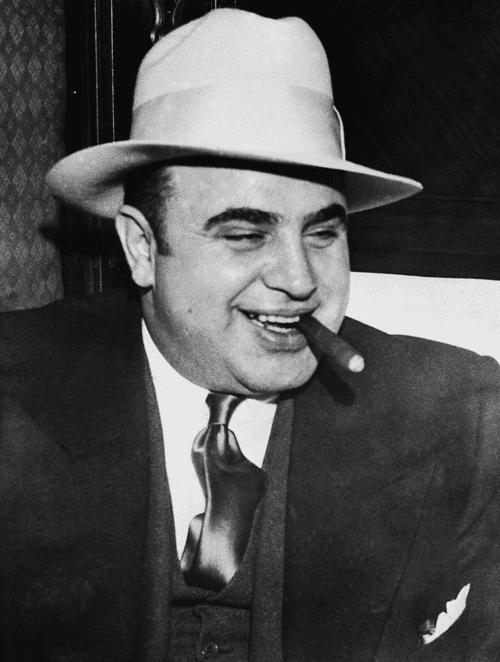 Al Capone
Alphonse Gabriel Capone (/kəˈpoʊn/;[1] January 17, 1899 – January 25, 1947), sometimes known by the nickname "Scarface", was an American gangster and businessman who attained notoriety during the Prohibition era as the co-founder and boss of the Chicago Outfit. His seven-year reign as a crime boss ended when he went to prison at the age of 33.
Capone was born in New York City in 1899 to Italian immigrants. He joined the Five Points Gang as a teenager and became a bouncer in organized crime premises such as brothels. In his early twenties, Capone moved to Chicago and became a bodyguard and trusted factotum for Johnny Torrio, head of a criminal syndicate that illegally supplied alcohol—the forerunner of the Outfit—and was politically protected through the Unione Siciliana. A conflict with the North Side Gang was instrumental in Capone's rise and fall. Torrio went into retirement after North Side gunmen almost killed him, handing control to Capone. Capone expanded the bootlegging business through increasingly violent means, but his mutually profitable relationships with Mayor William Hale Thompson and the Chicago Police Department meant he seemed safe from law enforcement.
Capone apparently reveled in attention, such as the cheers from spectators when he appeared at baseball games. He made donations to various charities and was viewed by many as a "modern-day Robin Hood".[2] However, the Saint Valentine's Day Massacre, in which seven gang rivals were murdered in broad daylight, damaged the public image of Chicago and Capone, leading influential citizens to demand government action and newspapers to dub Capone "Public Enemy No. 1".
Federal authorities became intent on jailing Capone and charged him with twenty-two counts of tax evasion. He was convicted of five counts in 1931. During a highly publicized case, the judge admitted as evidence Capone's admissions of his income and unpaid taxes, made during prior (and ultimately abortive) negotiations to pay the government taxes he owed. He was convicted and sentenced to eleven years in federal prison. After conviction, he replaced his defense team with experts in tax law, and his grounds for appeal were strengthened by a Supreme Court ruling, but his appeal ultimately failed. Capone showed signs of neurosyphilis early in his sentence and became increasingly debilitated before being released after almost eight years of incarceration. In 1947, he died of cardiac arrest after a stroke.
Summary
Al Capone has Sun in Capricorn 11th House, Moon in Aries 1st House, with Pisces Rising.
Rodden Rating
The accuracy of the natal data for this archive is rated as C
Sabian Symbols
Influenced by Art Deco
Natal Data
1899-01-17 14:30:00 GMT
40° 40′ 41.4″ N 73° 56′ 39.0″ W
Brooklyn, NY, USA
1x Records. Last Queried Dec 2, 2023 12:07 AM GMT