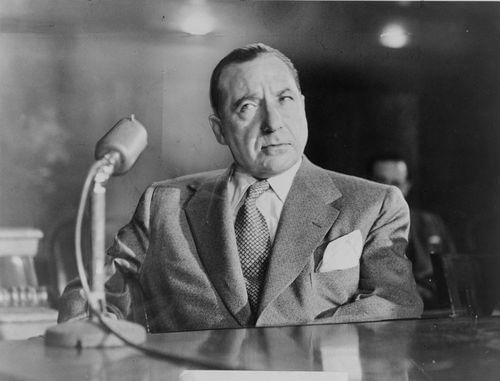 Attribution: Al Aumuller, World Telegram staff photographer, Public domain, via Wikimedia Commons
Frank Costello
Frank Costello (Italian: [koˈstɛllo]; born Francesco Castiglia[1] [franˈtʃesko kaˈstiʎʎa]; January 26, 1891 – February 18, 1973) was an Italian-American crime boss of the Luciano crime family. In 1957, Costello survived an assassination attempt ordered by Vito Genovese and carried out by Vincent Gigante. However, the altercation persuaded Costello to relinquish power to Genovese and retire. Costello died on February 18, 1973.
Costello was a key figure in the American Mafia during the mid-20th century. His influence extended through the Prohibition era and beyond, making him one of the most powerful and elusive mob bosses of his time.
He rose through the ranks of the Mafia, becoming a trusted member of the Luciano crime family. He played a crucial role in the formation of the National Crime Syndicate, a coalition of Italian-American criminal organizations that sought to establish a national network of organized crime.
Known for his strategic mind and diplomatic skills, Costello preferred to operate in the shadows, avoiding unnecessary violence and confrontations. His suave demeanor earned him the nickname "The Prime Minister of the Underworld." Costello was a master at navigating the complex political and business landscapes of the criminal underworld.
In the 1950s, he faced intense scrutiny during the Kefauver Hearings, a Senate investigation into organized crime. Costello's ability to maintain a low profile allowed him to avoid serious legal consequences at the time.
Costello's reign as a mob boss came to an end in 1957 when he survived an assassination attempt orchestrated by Vito Genovese. Although wounded, Costello decided to retire from active involvement in organized crime, leaving the leadership of the Luciano family to others.
After stepping back from the criminal empire, Costello continued to live a relatively quiet life until his death on February 18, 1973. His legacy remains a significant chapter in the history of the American Mafia, representing a complex figure who balanced power, diplomacy, and survival in the tumultuous world of organized crime.
Summary
Frank Costello has Sun in Aquarius 9th House, Moon in Cancer 12th House, with Cancer Rising.
Rodden Rating
The accuracy of the natal data for this archive is rated as AA
Analysis for Frank Costello
Sabian Symbols
Influenced by Baroque
Natal Data
1891-02-18 12:51:00 GMT
39° 47′ 5.0″ N 16° 19′ 15.7″ E
87011 Cassano All'Ionio, Province of Cosenza, Italy
1x Records. Last Queried Dec 2, 2023 12:10 AM GMT