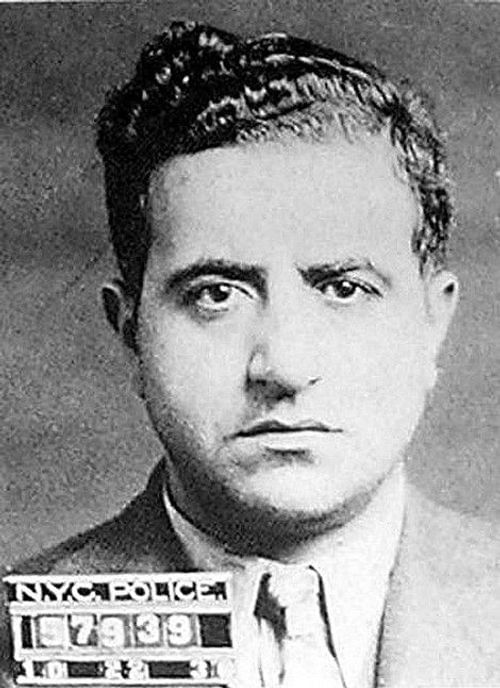 Attribution: ニューヨーク市警察 New York Police Department, Public domain, via Wikimedia Commons
Albert Anastasia
Umberto "Albert" Anastasia[3] (/ˌænəˈsteɪʒə/, Italian: [umˈbɛrto anastaˈziːa]; né Anastasio [anaˈstaːzjo]; September 26, 1902 – October 25, 1957) was an Italian-American mobster, hitman and crime boss. One of the founders of the modern American Mafia, and a co-founder and later boss of the Murder, Inc. organization, he eventually rose to the position of boss in what became the modern Gambino crime family. He also controlled New York City's waterfront for most of his criminal career, mainly through the dockworker unions. Anastasia was murdered on October 25, 1957, on the orders of Vito Genovese and Carlo Gambino; Gambino subsequently became boss of the family.
Anastasia was one of the most ruthless and feared organized crime figures in American history; his reputation earned him the nicknames The Earthquake, The One-Man Army, Mad Hatter and Lord High Executioner.
Summary
Albert Anastasia has Sun in Libra 10th House, Moon in Cancer 8th House, with Scorpio Rising.
Rodden Rating
The accuracy of the natal data for this archive is rated as AA
Analysis for Albert Anastasia
Sabian Symbols
Influenced by Surrealism
Natal Data
1902-09-26 09:15:00 GMT
38° 40′ 37.2″ N 15° 53′ 50.0″ E
89861 Tropea, Province of Vibo Valentia, Italy
1x Records. Last Queried Dec 2, 2023 12:06 AM GMT