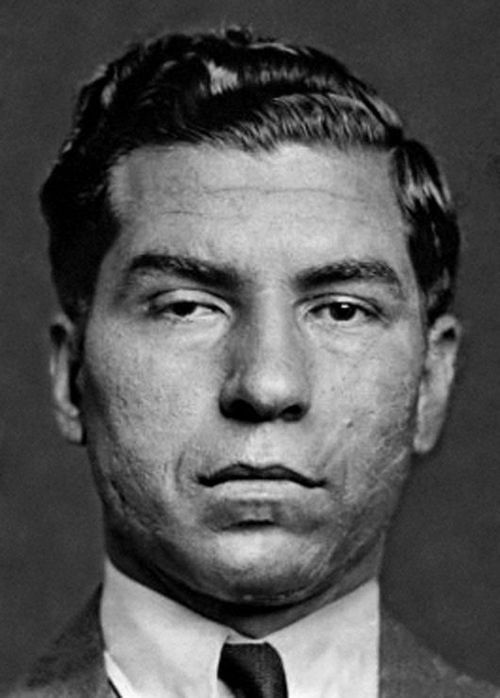 Attribution: New York Police Department.Hephaestos at en.wikipedia, Public domain, via Wikimedia Commons
Lucky Luciano
Charles "Lucky" Luciano (/ˌluːtʃiˈɑːnoʊ/ LOO-chee-AH-noh,[1] Italian: [luˈtʃaːno]; born Salvatore Lucania[2] [salvaˈtoːre lukaˈniːa];[3] November 24, 1897 – January 26, 1962) was an Italian-born gangster who operated mainly in the United States. Luciano started his criminal career in the Five Points Gang and was instrumental in the development of the National Crime Syndicate. Luciano is considered the father of modern organized crime in the United States for the establishment of the Commission in 1931, after he abolished the boss of bosses title held by Salvatore Maranzano following the Castellammarese War. He was also the first official boss of the modern Genovese crime family.
In 1936, Luciano was tried and convicted for compulsory prostitution and running a prostitution racket after years of investigation by District Attorney Thomas E. Dewey. He was sentenced to 30 to 50 years in prison, but during World War II an agreement was struck with the Department of the Navy through his Jewish Mob associate Meyer Lansky to provide naval intelligence. In 1946, for his alleged wartime cooperation, his sentence was commuted on the condition that he be deported to Italy. Luciano died in Italy on January 26, 1962, and his body was permitted to be transported back to the United States for burial.
Summary
Lucky Luciano has Sun in Sagittarius 9th House, Moon in Sagittarius 9th House, with Aquarius Rising.
Rodden Rating
The accuracy of the natal data for this archive is rated as AA
Analysis for Lucky Luciano
Sabian Symbols
Influenced by Art Deco
Natal Data
1897-11-24 11:00:00 GMT
37° 43′ 30.0″ N 13° 36′ 5.6″ E
90025 Lercara Friddi, PA, Italy
1x Records. Last Queried Dec 2, 2023 12:07 AM GMT