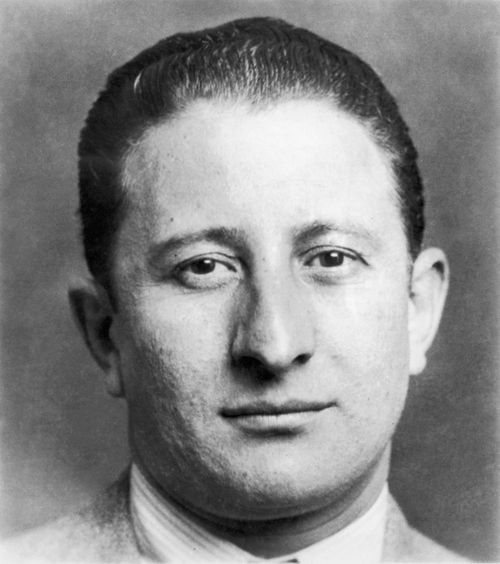 Attribution: New York Police Department, Public domain, via Wikimedia Commons
Carlo Gambino
Carlo Gambino (Italian: [ˈkarlo ɡamˈbiːno]; August 24, 1902[nb 1] – October 15, 1976) was a Sicilian-born American crime boss who was the leader and namesake of the Gambino crime family of New York City. Following the Apalachin Meeting in 1957, and the imprisonment of Vito Genovese in 1959, Gambino took over the Commission of the American Mafia and played a powerful role in organized crime until his death from a heart attack in 1976. During a criminal career that spanned over fifty years, Gambino served only twenty-two months in prison for a tax evasion charge in 1937. Emigrating to the United States in 1921, he quickly became involved in organized crime, rising through the ranks to become the boss of the Gambino crime family.
Known for his shrewd intelligence and low-key demeanor, Carlo Gambino was a master strategist in the world of organized crime. His leadership style emphasized discipline, loyalty, and a focus on profitable ventures, steering the family away from unnecessary violence and attracting law enforcement attention.
Gambino's ascent to power gained momentum in the 1950s when he played a key role in the infamous "Apalachin meeting," a gathering of mob leaders that drew law enforcement scrutiny. Despite the increased attention, Gambino managed to avoid legal consequences and solidified his control over the family.
Under Gambino's leadership, the crime family thrived, engaging in various illicit activities such as racketeering, loan sharking, and labor union infiltration. His ability to maintain a low profile and effectively navigate the criminal underworld contributed to the family's success.
Carlo Gambino's reign continued until his death of a heart attack on October 15, 1976. His legacy extends beyond his own lifetime, as the Gambino crime family remains one of the most enduring and powerful Mafia organizations in American history. Carlo Gambino's strategic leadership and emphasis on stability and financial gain set a standard for organized crime bosses that is still discussed and analyzed today.
Summary
Carlo Gambino has Sun in Virgo, Moon in Taurus.
Rodden Rating
The accuracy of the natal data for this archive is rated as X
DISCLAIMER: Carlo Gambino doesn't have a recorded birth time, therefore, house boundaries (including the main axis/glyph) and the degrees of the moon, AC and MC point cannot be relied upon, however, the signs and degrees of the rest of the planets, including the planetary aspects, are reliable.
Analysis for Carlo Gambino
Sabian Symbols
Influenced by Surrealism
Natal Data
1902-08-24 Unknown Time GMT
38° 6′ 56.5″ N 13° 21′ 41.4″ E
Palermo, PA, Italy
1x Records. Last Queried Dec 2, 2023 12:07 AM GMT