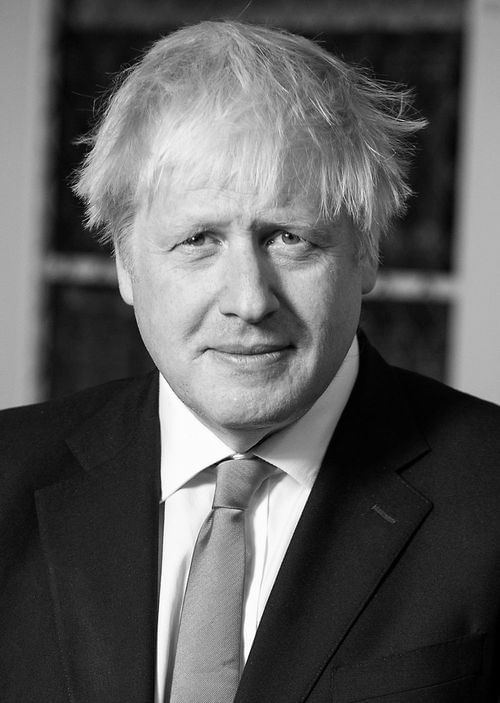 Attribution: Ben Shread / Cabinet Office
Boris Johnson
Alexander Boris de Pfeffel Johnson (/ˈfɛfəl/;[5] born 19 June 1964) is a British politician, writer and journalist who served as Prime Minister of the United Kingdom and Leader of the Conservative Party from 2019 to 2022. He previously served as Foreign Secretary from 2016 to 2018 and as Mayor of London from 2008 to 2016. Johnson has been Member of Parliament (MP) for Uxbridge and South Ruislip since 2015, having previously been MP for Henley from 2001 to 2008.
Johnson attended Eton College, and studied Classics at Balliol College, Oxford. He was elected president of the Oxford Union in 1986. In 1989, he became the Brussels correspondent — and later political columnist — for The Daily Telegraph, and from 1999 to 2005 was the editor of The Spectator. Following his election to parliament in 2001 he was a shadow minister under Conservative leaders Michael Howard and David Cameron. In 2008, Johnson was elected mayor of London and resigned from the House of Commons; he was re-elected mayor in 2012. At the 2015 general election he was elected MP for Uxbridge and South Ruislip, and the following year did not seek re-election as mayor. Johnson became a prominent figure in the successful Vote Leave campaign for Brexit in the 2016 European Union (EU) membership referendum. Theresa May appointed him foreign secretary after the referendum; he resigned the position two years later in protest at the Chequers Agreement and May's approach to Brexit.
Johnson defeated Jeremy Hunt in the Conservative Party leadership election to succeed May, who resigned after Parliament's repeated rejections of her Brexit withdrawal agreement. After he was appointed prime minister, Johnson re-opened Brexit negotiations and in early September controversially prorogued Parliament; the Supreme Court later that month ruled the action unlawful.[b] After agreeing to a revised Brexit withdrawal agreement, which replaced the Irish backstop with a new Northern Ireland Protocol, but failing to win parliamentary support for the agreement, Johnson called a snap election for December 2019 in which he led the Conservative Party to victory with 43.6 per cent of the vote, and the party's largest seat share since the 1987 general election. On 31 January 2020, the United Kingdom withdrew from the EU, entering into a transition period and trade negotiations that led to the EU–UK Trade and Cooperation Agreement.
A decisive event that shaped Johnson's premiership was the COVID-19 pandemic; the government responded by introducing various emergency powers and measures across society to mitigate the pandemic's impact, and approved the rollout of a nationwide vaccination programme. He responded to the 2022 Russian invasion of Ukraine by imposing sanctions on Russia and authorising foreign aid and weapons shipments to Ukraine.[7] Amid the Partygate scandal, Johnson became the first prime minister to be sanctioned for breaking the law while in office after being issued a fixed penalty notice in April 2022 for breaching COVID-19 regulations during lockdowns. The publishing of the Sue Gray report in May 2022 and a widespread sense of dissatisfaction led in June 2022 to a vote of confidence in his leadership among Conservative MPs, which he won. In July 2022, revelations over his appointment of Chris Pincher as Deputy Chief Whip led to a mass resignation of ministers from his government and to Johnson announcing his resignation. He left office on 6 September and was succeeded by Liz Truss, his foreign secretary. Johnson remains in the House of Commons as a backbencher.
Johnson is a controversial figure in British politics.[8][9] Supporters have praised him as humorous, witty, and entertaining,[10] with an appeal stretching beyond traditional Conservative Party voters, making him an electoral asset for the party.[11][12] Conversely, his critics have accused him of lying, elitism, cronyism and bigotry.[13][14][15] Johnson's political positions have sometimes been described as following one-nation conservatism, and commentators have characterised his political style as opportunistic, populist, or pragmatic.[16][17][18]
Summary
Boris Johnson has Sun in Gemini 9th House, Moon in Scorpio 1st House, with Libra Rising.
Rodden Rating
The accuracy of the natal data for this archive is rated as AA
Analysis for Boris Johnson
Sabian Symbols
Influenced by Traditional Chinese Art
Natal Data
1964-06-19 14:00:00 LMT
40° 48′ 44.7″ N 73° 57′ 37.9″ W
Broadway, New York, NY, USA
1x Records. Last Queried Dec 4, 2023 12:01 AM GMT