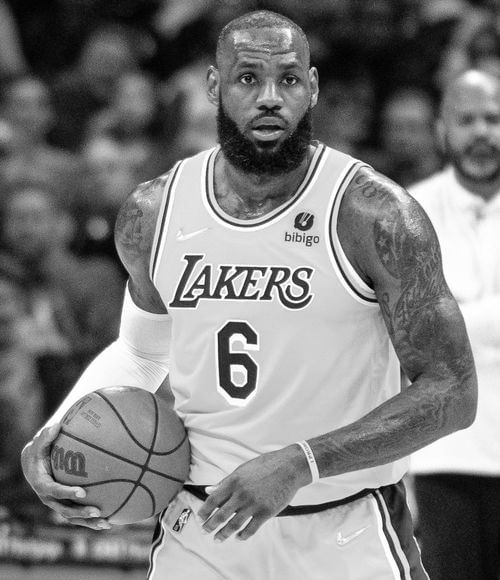 LeBron James
LeBron Raymone James Sr. (/ləˈbrɒn/ lə-BRON; born December 30, 1984) is an American professional basketball player for the Los Angeles Lakers of the National Basketball Association (NBA). Nicknamed "King James", he is widely regarded as one of the greatest players in the history of the sport and is often compared to Michael Jordan in debates over the greatest basketball player of all time.[a] James is the all-time leading scorer in NBA history and ranks fourth in career assists. He has won four NBA championships (two with the Miami Heat, one each with the Lakers and Cleveland Cavaliers), and has competed in 10 NBA Finals, including eight consecutive Finals appearances from 2011 to 2018.[1] He has also won four Most Valuable Player (MVP) Awards, four Finals MVP Awards, and two Olympic gold medals, and has been named an All-Star 19 times, selected to the All-NBA Team 19 times (including 13 First Team selections)[2][3] and the All-Defensive Team six times, and was a runner-up for the NBA Defensive Player of the Year Award twice in his career.[4][5] As of October 2023, he is the oldest player in the NBA.[6]
James grew up playing basketball for St. Vincent–St. Mary High School in his hometown of Akron, Ohio. He was heavily touted by the national media as a future NBA superstar for his all-around scoring, passing, athleticism and playmaking abilities.[7] A prep-to-pro, he was selected by the Cleveland Cavaliers with the first overall pick of the 2003 NBA draft. Named the 2004 NBA Rookie of the Year,[8] he soon established himself as one of the league's premier players, leading the Cavaliers to their first NBA Finals appearance in 2007 and winning the NBA MVP award in 2009 and 2010.[4] After failing to win a championship with Cleveland, James left in 2010 as a free agent to join the Miami Heat;[9] this was announced in a nationally televised special titled The Decision and is among the most controversial free agency moves in sports history.[10]
James won his first two NBA championships while playing for the Heat in 2012 and 2013; in both of these years, he also earned the league's MVP and Finals MVP awards. After his fourth season with the Heat in 2014, James opted out of his contract and re-signed with the Cavaliers. In 2016, he led the Cavaliers to victory over the Golden State Warriors in the Finals by coming back from a 3–1 deficit, delivering the team's first championship and ending the Cleveland sports curse.[11] In 2018, James exercised his contract option to leave the Cavaliers and signed with the Lakers, where he won the 2020 NBA championship and his fourth Finals MVP.[12] James is the first player in NBA history to accumulate $1 billion in earnings as an active player.[13] On February 7, 2023, James surpassed Kareem Abdul-Jabbar to become the leading scorer in league history.
Off the court, James has accumulated more wealth and fame from numerous endorsement contracts. He has been featured in books, documentaries (including winning three Sports Emmy Awards as an executive producer), and television commercials. He has won 20 ESPY Awards, hosted Saturday Night Live, and starred in the sports film Space Jam: A New Legacy (2021). James has been a part-owner of Liverpool F.C. since 2011 and leads the LeBron James Family Foundation, which has opened an elementary school, housing complex, retail plaza, and medical center in Akron.[14][15]
Summary
LeBron James has Sun in Capricorn 7th House, Moon in Aries 11th House, with Gemini Rising.
Rodden Rating
The accuracy of the natal data for this archive is rated as AA
Analysis for LeBron James
Sabian Symbols
Influenced by Symbolism
Natal Data
1984-12-30 16:04:00 LMT
41° 4′ 53.2″ N 81° 31′ 8.4″ W
Akron, OH, USA
1x Records. Last Queried Dec 2, 2023 12:08 AM GMT