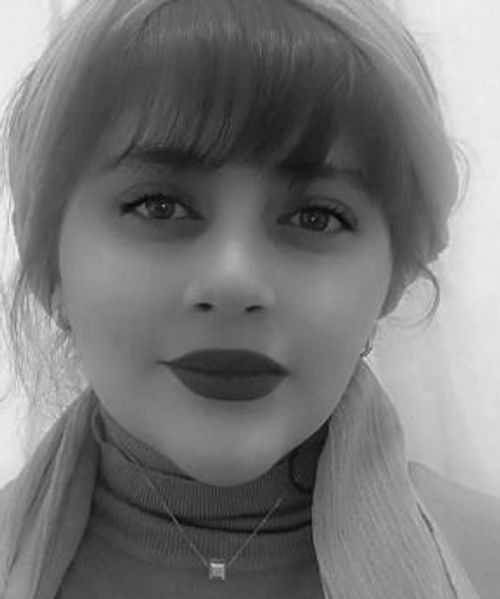 Mahsa Jina Amini
Mahsa Amini was born on 21 September 1999[34][35] to a Kurdish family in Saqqez, Kurdistan Province, in northwestern Iran.[36] While Mahsa was her official Persian given name, her Kurdish name was Jina, and this was the name her family used.[37][38] Her father is an employee in a government organization and her mother is a housewife.[39] She attended Taleghani Girls' High School in Saqqez, graduating in 2018. At the time of her death, Amini had just been admitted to university, aiming to become a lawyer.[40][41]
Amini's cousin, a left-wing political activist belonging to the Komala party and a Peshmerga fighter living in self-exile in Iraqi Kurdistan,[42] was the first member of Amini's family to speak to the media after her death.[43] He debunked claims by the Iranian government that Amini was involved in any politics.[42] Instead, Amini has been described as having been a "shy, reserved resident" of her hometown[44] who avoided politics, was never politically active as a teenager, and was not an activist.[39] Amini's family have described her as having no prior health conditions, and as being a healthy 22-year-old, contrasting the claims made by the Iranian government that she possessed prior health conditions.[45]
On 16 September 2022, the 22-year-old Iranian woman Mahsa Amini,[a] also known as Jina Amini,[b][1][2][3] died in a hospital in Tehran, Iran, under suspicious circumstances. The Guidance Patrol, the religious morality police of Iran's government, arrested Amini for allegedly not wearing the hijab in accordance with government standards. The Law Enforcement Command of the Islamic Republic of Iran stated that she had a heart attack at a police station, collapsed, and fell into a coma before being transferred to a hospital.[4][5] However, eyewitnesses, including women who were detained with Amini, reported that she was severely beaten and that she died as a result of police brutality,[6][7][8] which was denied by the Iranian authorities.[9] The assertions of police brutality, in addition to leaked medical scans,[10] led some observers to believe Amini had a cerebral hemorrhage or stroke due to head injuries received after her arrest.[11]
Amini's death resulted in a series of protests described by CNN as more widespread than the protests in 2009, 2017, and 2019,[12] and by The New York Times as the largest Iranian protests since at least 2009.[13] Some female demonstrators removed their hijab or publicly cut their hair as acts of protest.[14] Iran Human Rights reported that by December 2022 at least 476 people had been killed by security forces attacking protests across the country.[15][16] Amnesty International reported that Iranian security forces had, in some cases, fired into groups with live ammunition and had in other cases killed protesters by beating them with batons.[17]
Source: https://en.wikipedia.org/wiki/Death_of_Mahsa_Amini
Disclaimer: The birthday is accurate as I was given an actual death records and other records that confirm the date, other dates online are therefore inaccurate. Also, I rectified the birth time and I believe, this time fits all the details about Mahsa's life and death, however, the degrees of the axis, the moon, and the order of the houses should not be relied upon.
Summary
Mahsa Jina Amini has Sun in Virgo 8th House, Moon in Aquarius 1st House, with Capricorn Rising.
Rodden Rating
The accuracy of the natal data for this archive is rated as C.
Analysis for Mahsa Jina Amini
Analysis Coming Soon ....
Sabian Symbols
Influenced by Australian Aboriginal Art
Natal Data
1999-09-21 16:12:00 LMT
36° 14′ 27.1″ N 46° 16′ 14.4″ E
Saqqez, Kurdistan Province, Iran
1x Records. Last Queried: Sep 23, 2023 12:07 AM GMT