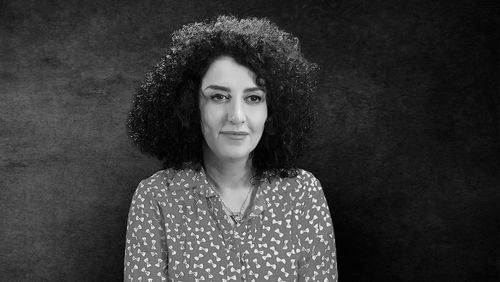 Attribution: VOA, Public domain, via Wikimedia Commons
Narges Mohammadi
Narges Mohammadi, born on April 21, 1972, in Zanjan, Iran, is a prominent Iranian human rights activist, Nobel laureate, and scientist. She currently serves as the vice president of the Defenders of Human Rights Center (DHRC), an organization led by fellow Nobel Peace Prize laureate Shirin Ebadi. Mohammadi is widely recognized for her advocacy of mass feminist civil disobedience against the compulsory hijab in Iran and her vocal criticism of the 2023 hijab and chastity program.
In May 2016, Narges Mohammadi faced persecution when she was sentenced in Tehran to 16 years' imprisonment for her role in establishing and leading a human rights movement that campaigns for the abolition of the death penalty. Her unwavering commitment to defending human rights led to her imprisonment.
Despite enduring hardships and incarceration, Mohammadi continued her human rights work. In October 2023, while still in prison, she was awarded the 2023 Nobel Peace Prize for her relentless efforts in fighting against the oppression of women in Iran and her unwavering commitment to promoting human rights and freedom for all. This prestigious recognition by the Nobel Committee highlighted her dedication to the cause of justice.
Narges Mohammadi's life journey began in Zanjan, Iran, where she was born. She grew up in various cities, including Qorveh, Karaj, and Oshnaviyeh. She pursued her education at Qazvin International University, earning a degree in physics and becoming a professional engineer. During her university years, she contributed articles supporting women's rights to the student newspaper, which led to her arrest at political student group meetings.
Mohammadi's activism extended to her involvement in a mountain climbing group, but she was banned from participating due to her political activities. She later worked as a journalist for several reformist newspapers and authored a book of political essays titled "The Reforms, the Strategy, and the Tactics."
In 2003, she joined the Defenders of Human Rights Center (DHRC), an organization headed by Nobel Peace Prize laureate Shirin Ebadi, eventually becoming its vice president. Her commitment to human rights work continued even after her marriage to fellow pro-reform journalist Taghi Rahmani in 1999. Rahmani moved to France in 2012 after serving 14 years in prison, while Mohammadi remained in Iran to continue her activism. The couple has twin children.
Narges Mohammadi's journey has been marked by multiple arrests and imprisonments. Her first arrest occurred in 1998, followed by subsequent arrests in April 2010 and April 2015. Each time, she faced charges related to her human rights activities and advocacy.
Her imprisonment took a toll on her health, leading to the development of an epilepsy-like condition during her detention. Despite her health struggles, she persisted in her pursuit of justice and human rights.
The international community expressed concern about her plight, with organizations like Amnesty International designating her as a prisoner of conscience and advocating for her release. Lawmakers from various countries also called for her freedom.
Narges Mohammadi's dedication to the cause of human rights and justice has made her a symbol of resilience and courage. Her tireless efforts, even in the face of adversity, reflect her unwavering commitment to promoting human rights and challenging oppression.
In October 2020, she was released from prison, providing a glimmer of hope for her continued advocacy and activism in the pursuit of justice and human rights in Iran and beyond
**** Disclaimer: There is no known Birth Time available for Narges. The time of birth is rectified by Cosmic Program for research purpose only and therefore, the degrees of the moon, the glyph and the order of the houses should not be relied upon. Gaia
Summary
Narges Mohammadi has Sun in Taurus 2nd House, Moon in Leo 6th House, with Pisces Rising.
Rodden Rating
The accuracy of the natal data for this archive is rated as DD
DISCLAIMER: Given the Rodden classification of DD, house boundaries (including the main axis/glyph) and the degree of the moon, AC and MC points should not be relied upon, however, the signs and the degrees of the rest of the planets, including the planetary aspects, are reliable
Analysis for Narges Mohammadi
Sabian Symbols
Influenced by Impressionism
Natal Data
1972-04-21 03:05:00 LMT
36° 40′ 58.8″ N 48° 30′ 31.4″ E
Zanjan, Zanjan Province, Iran
1x Records. Last Queried Dec 2, 2023 12:08 AM GMT