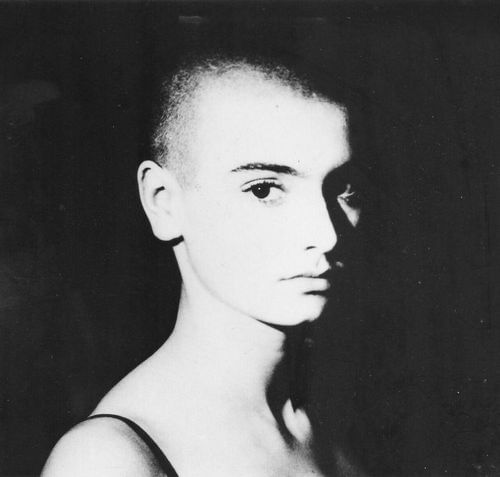 Attribution: photographer unknown, Public domain, via Wikimedia Commons
Sinéad O'Connor
Shuhada' Sadaqat[7][a] (8 December 1966 – 26 July 2023), known professionally as Sinéad O'Connor,[8][b] was an Irish singer-songwriter, artist-musician and strident, radical political activist. Her debut studio album, The Lion and the Cobra, was released in 1987 and charted internationally. Her second studio album, I Do Not Want What I Haven't Got (1990), became her biggest success, selling over seven million copies worldwide.[10] Its lead single, "Nothing Compares 2 U", was named the number-one world single in 1990 by the Billboard Music Awards.[11]
O'Connor released 10 studio albums. Am I Not Your Girl? (1992) and Universal Mother (1994) were certified gold in the UK,[12] Faith and Courage (2000) was certified gold in Australia,[13] and Throw Down Your Arms (2005) went gold in Ireland.[14] Her work included songs for films, collaborations with many other artists, and appearances at charity fundraising concerts. Her 2021 memoir Rememberings was a bestseller.[15]
In 1999, O'Connor was ordained as a priest by the Irish Orthodox Catholic and Apostolic Church, an Independent Catholic sect that is not recognised by the Roman Catholic Church.[16] She consistently spoke out on issues related to child abuse (including her 1992 Saturday Night Live protest against the continued cover-up of Catholic Church sexual abuse cases), human rights, racism, organised religion, and women's rights. Throughout her music career, she spoke about her spiritual journey, activism, socio-political views, as well as her trauma and mental health struggles. In 2017, O'Connor changed her name to Magda Davitt. After converting to Islam in 2018 she changed it to Shuhada' Sadaqat,[1][7][17] but continued to record and perform under her birth name.[18]
Source: https://en.wikipedia.org/wiki/Sin%C3%A9ad_O%27Connor
Summary
Sinéad O'Connor has Sun in Sagittarius 1st House, Moon in Libra 10th House, with Sagittarius Rising.
Rodden Rating
The accuracy of the natal data for this archive is rated as C
Analysis for Sinéad O'Connor
Sabian Symbols
Influenced by Cyberpunk
Natal Data
1966-12-08 07:37:00 LMT
53° 20′ 59.3″ N 6° 15′ 37.1″ W
Dublin, Ireland
1x Records. Last Queried Dec 2, 2023 12:06 AM GMT