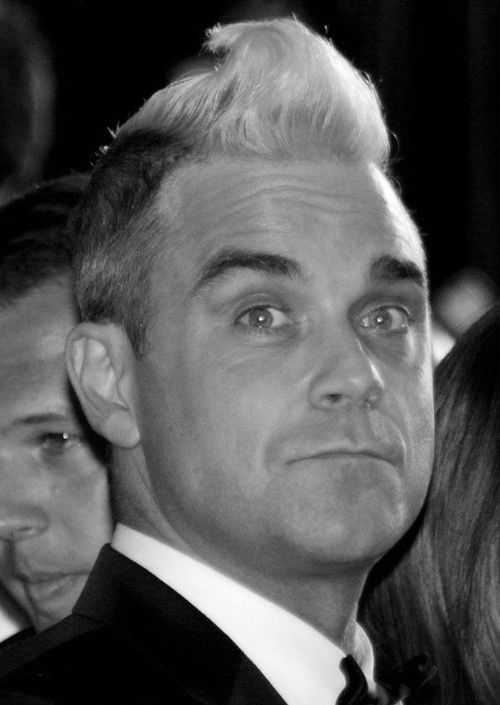 Robbie Williams
Robert Peter "Robbie" Williams (born 13 February 1974) is an English singer and songwriter. He found fame as a member of the pop group Take That from 1990 to 1995, and launched a solo career in 1996. His debut studio album, Life thru a Lens, was released in 1997, and included his signature song, "Angels". His second album, I've Been Expecting You, featured the songs "Millennium" and "She's the One", his first number one singles. His discography includes seven UK No. 1 singles, and all but one of his 14 studio albums have reached No. 1 in the UK. Six of his albums are among the top 100 biggest-selling albums in the UK, with two of them in the top 60, and he gained a Guinness World Record in 2006 for selling 1.6 million tickets in a single day during his Close Encounters Tour.[1]
Williams has received a record 18 Brit Awards, winning Best British Male Artist four times, Outstanding Contribution to Music twice, an Icon Award for his lasting impact on British culture, eight German ECHO Awards, and three MTV European Music Awards.[2][3] In 2004, he was inducted into the UK Music Hall of Fame after being voted the Greatest Artist of the 1990s. According to the British Phonographic Industry (BPI), he has been certified for 20.26 million albums and 9.2 million singles in the UK as a solo artist.[4] Five of his albums have also topped the Australian albums chart, and has sold 75 million records worldwide, making him one of the best-selling music artists of all time. He also topped the 2000–2010 UK airplay chart. His three concerts at Knebworth in 2003 drew over 375,000 people, the UK's biggest music event to that point.[5] In 2014, he was awarded the freedom of his hometown of Stoke-on-Trent and had a tourist trail created and streets named in his honour. Williams' thirteenth album, XXV, was released on 9 September 2022.[6][7]
After 15 years, Williams rejoined Take That in 2010 to co-write and perform lead vocals on their album Progress, which became the second-fastest-selling album in UK chart history[8] and the fastest-selling record of the century at the time.[9] The subsequent stadium tour, which featured seven songs from Williams' solo career, became the biggest-selling concert in UK history when it sold 1.34 million tickets in less than 24 hours. In 2011, Take That frontman Gary Barlow confirmed that Williams had left the band for a second time to focus on his solo career, although he stated that the departure was amicable and that Williams was welcome to rejoin Take That in the future.[10] Williams has since performed with Take That on three separate television appearances,[11][12][13] and collaborated with Barlow on a number of projects[14] such as the West End musical The Band.[15]
Summary
Robbie Williams has Sun in Aquarius 6th House, Moon in Scorpio 4th House, with Leo Rising.
Rodden Rating
The accuracy of the natal data for this archive is rated as C
Analysis for Robbie Williams
Sabian Symbols
Influenced by Art Deco
Natal Data
1974-02-13 17:40:00 LMT
53° 0′ 12.0″ N 2° 10′ 57.9″ W
Stoke-on-Trent, UK
1x Records. Last Queried Dec 2, 2023 12:07 AM GMT