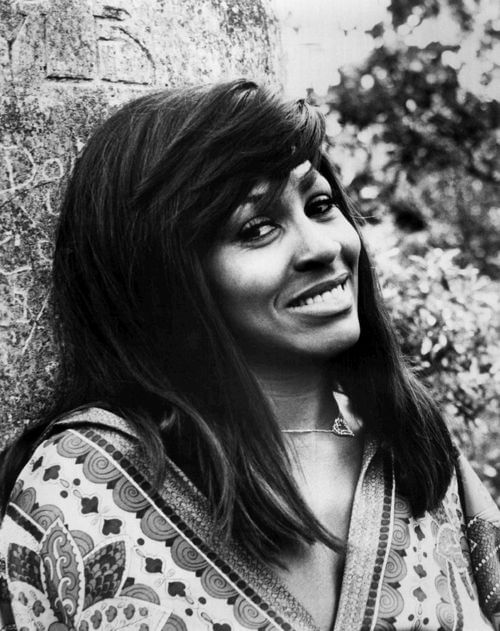 Attribution: Jay Bernstein Public Relations, Los Angeles., Public domain, via Wikimedia Commons
Tina Turner
Tina Turner (born Anna Mae Bullock; November 26, 1939 – May 24, 2023) was an American-born Swiss singer.[a] Known as the "Queen of Rock 'n' Roll", she rose to prominence as the lead singer of the Ike & Tina Turner Revue before launching a successful career as a solo performer.
Turner began her career with Ike Turner's Kings of Rhythm in 1957. Under the name Little Ann, she appeared on her first record, "Boxtop", in 1958. In 1960, she debuted as Tina Turner with the hit duet single "A Fool in Love". The duo Ike & Tina Turner became "one of the most formidable live acts in history".[7] They released hits such as "It's Gonna Work Out Fine", "River Deep – Mountain High", "Proud Mary", and "Nutbush City Limits", before disbanding in 1976.
In the 1980s, Turner launched "one of the greatest comebacks in music history".[8] Her 1984 multi-platinum album Private Dancer contained the hit song "What's Love Got to Do with It", which won the Grammy Award for Record of the Year and became her first and only number-one song on the Billboard Hot 100. Aged 44, she was the oldest female solo artist to top the Hot 100.[9] Her chart success continued with "Better Be Good to Me", "Private Dancer", "We Don't Need Another Hero (Thunderdome)", "Typical Male", "The Best", "I Don't Wanna Fight", and "GoldenEye". During her Break Every Rule World Tour in 1988, she set a then-Guinness World Record for the largest paying audience (180,000) for a solo performer.[10]
Turner also acted in the films Tommy (1975) and Mad Max Beyond Thunderdome (1985). In 1993, What's Love Got to Do with It, a biographical film adapted from her autobiography I, Tina: My Life Story, was released. In 2009, Turner retired after completing her Tina!: 50th Anniversary Tour, which is the 15th-highest-grossing tour of the 2000s. In 2018, she became the subject of a jukebox musical, Tina.
Having sold over 100 million records worldwide, Turner is one of the best-selling recording artists of all time. She received 12 Grammy Awards, which include eight competitive awards, three Grammy Hall of Fame awards and a Grammy Lifetime Achievement Award. She was the first black artist and first woman to be on the cover of Rolling Stone. Rolling Stone ranked her among the 100 Greatest Artists of All Time and the 100 Greatest Singers of All Time.[11] Turner has a star on the Hollywood Walk of Fame and on the St. Louis Walk of Fame. She was twice inducted into the Rock and Roll Hall of Fame, with Ike Turner in 1991 and as a solo artist in 2021.[12] She was also a 2005 recipient of the Kennedy Center Honors and Women of the Year award.[13]
Summary
Tina Turner has Sun in Sagittarius 4th House, Moon in Gemini 10th House, with Leo Rising.
Rodden Rating
The accuracy of the natal data for this archive is rated as AA
Sabian Symbols
Influenced by Pablo Picasso
Natal Data
1939-11-26 22:10:00 LMT
35° 41′ 53.3″ N 89° 24′ 29.3″ W
Nutbush, TN 38012, USA
1x Records. Last Queried Dec 2, 2023 12:07 AM GMT