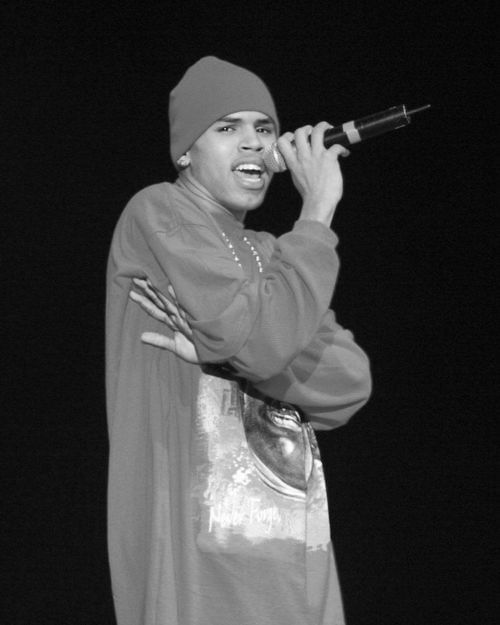 Chris Brown
Christopher Maurice Brown (born May 5, 1989) is an American singer, songwriter, dancer, and actor. According to Billboard, Brown is one of the most successful R&B singers of his generation,[2][3] having often been referred to by many contemporaries as the "King of R&B".[4][5][6][7] His musical style has been defined as polyhedric, with his R&B being characterized by several influences from other genres, mainly hip hop and pop music. His lyrics develop predominantly over themes of sex, romance, fast life, desire, regret, and emotional conflict. Brown has gained a cult following and wide comparisons to Michael Jackson for his stage presence.[8]
In 2004, Brown signed with Jive Records, and released his self-titled debut studio album the following year, which was later certified triple platinum by the Recording Industry Association of America (RIAA).[9][10] With his debut single "Run It!" peaking atop the Billboard Hot 100, Brown became the first male artist since 1995 to have his debut single top the chart. His second album, Exclusive (2007), was met with even bigger commercial success worldwide, and it spawned his second Billboard Hot 100 number one "Kiss Kiss".[11] In 2009, Brown pled guilty to felony assault of his then girlfriend, singer Rihanna.[12] In the same, year he released his third album, Graffiti, which was considered to be a commercial failure compared to his previous works.[13] Following Graffiti, Brown released his fourth album F.A.M.E. (2011), which became his first album to top the Billboard 200. The album contained the commercially successful singles: "Yeah 3x", "Look at Me Now" and "Beautiful People", and earned him the Grammy Award for Best R&B Album.[14][15] His fifth album, Fortune, released in 2012, also topped the Billboard 200.
Following the releases of X (2014) and Royalty (2015), his 2017 double-disc album, Heartbreak on a Full Moon, consisting of 45 tracks, was certified gold by the Recording Industry Association of America for combined sales and album-equivalent units of over 500,000 units after one week, and was later certified Double Platinum by the Recording Industry Association of America. Brown's ninth studio album Indigo was released in 2019, also debuted atop on the Billboard 200.[16] It included the Drake featured track "No Guidance" which reached the top five on the Billboard Hot 100 and broke the record for the longest-running number one on Billboard's R&B/Hip-Hop Airplay chart.[17][18] Its chart success was outdone with the single "Go Crazy" released the following year, alongside Young Thug as part of their collaborative mixtape Slime & B (2020).[19][20][21]
Brown has sold over 197 million records worldwide, making him one of the world's best-selling music artists. He is also one of the highest-grossing African American touring artists of all time.[22] Brown has the most Billboard Hot 100 entries of any male singer in history;[23] as well as the most top 40 hits of any R&B singer in history.[24] Brown was also ranked third on Billboard's top R&B/Hip-Hop artists of the 2010s chart.[25] Throughout his career, Brown has won several awards, including a Grammy Award, eighteen BET Awards, four Billboard Music Awards, and thirteen Soul Train Music Awards. Brown has also pursued an acting career. In 2007, he made his on-screen feature film debut in Stomp the Yard, and appeared as a guest on the television series The O.C. Other films Brown has appeared in include This Christmas (2007), Takers (2010), Think Like a Man (2012), and Battle of the Year (2013) and She Ball (2020).
Summary
Chris Brown has Sun in Taurus 10th House, Moon in Taurus 10th House, with Leo Rising.
Rodden Rating
The accuracy of the natal data for this archive is rated as AA
Sabian Symbols
Influenced by Steampunk
Natal Data
1989-05-05 12:30:00 LMT
37° 55′ 31.5″ N 76° 51′ 32.9″ W
Tappahannock, VA 22560, USA
1x Records. Last Queried Dec 2, 2023 12:21 AM GMT