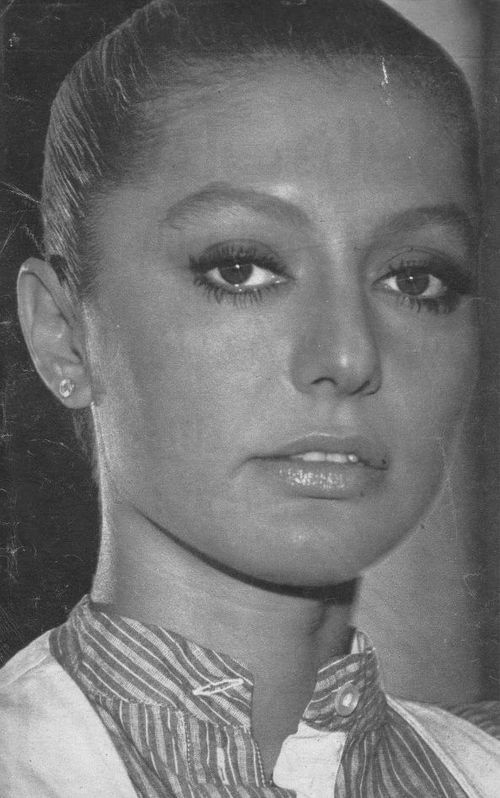 Attribution: pinterest.comdirect link, Public domain, via Wikimedia Commons
Googoosh
Faegheh Atashin (Persian: فائقه آتشین; born 5 May 1950), known professionally as Googoosh (Persian: گوگوش, Persian: [guːˈguːʃ] ⓘ), is an Iranian singer and former actress. One of the most popular and prolific entertainers in Iran, her career has spanned over six decades.[2][3][4] Googoosh has enjoyed significant popularity since the beginning of her career, ultimately becoming a cultural icon inside Iran and abroad.[5][6][7]
Googoosh was born as Faegheh Atashin on 5 May 1950, in Tehran,[2] to Azerbaijani parents who emigrated from the Azerbaijan Soviet Socialist Republic of the Soviet Union.[17] She was quickly called "Googoosh", an Armenian name normally exclusively used for boys but which became her stage name.[18] In an interview she noted that she was called Googoosh from a very early age; in her birth certificate however her birth name Faegheh is recorded.[19][20][17]
She is mainly known for her contributions to Iranian pop music, but she also starred in a variety of Persian movies from the 1950s to the 1970s.[8][9] She achieved the pinnacle of her fame and success towards the end of the 1970s. In the 1970s, Googoosh was widely emulated by Iranian women, as they copied her clothing (miniskirts) and her short haircut (known as the "Googooshi").[2][10] Following the Iranian Revolution in 1979, she remained in Tehran until 2000 and did not perform again during that period due to the ban on female singers. Younger generations of Iranians have rediscovered her music via bootleg recordings.[11] After leaving Iran in 2000, she performed a total of 27 concerts in European and North American countries in that year.[12] Recent projects include a new collaboration with Iranian singer-songwriter Hassan Shamaizadeh from her 2012 album Ejaz, as well as serving as head judge and head of academy for the popular reality show Googoosh Music Academy broadcast on London-based satellite channel Manoto 1.[13]
Since her return to the stage in the summer of 2000, she has performed in concerts and venues all around the world, including the Madison Square Garden in New York, the Air Canada Centre in Toronto, the Ericsson Globe in Stockholm, Honda Center in Anaheim, Royal Albert Hall in London and the Hollywood Bowl in Los Angeles [14] She has recorded songs in many languages including Persian, Azerbaijani, Turkish, English, Spanish, Italian, Arabic, Armenian and French.[15] She has a significant following outside of Iran and has even received the attention of European and African media and press
Source: https://en.wikipedia.org/wiki/Googoosh
**** There is no known birth time for Googoosh. I rectified the birth time, based on Googoosh's unique features and style, her extremely unique life events, as well as other factors relevant to her character and life events. Therefore, the degree of the moon and the main glyph should not be relied upon. Gaia
Summary
Googoosh has Sun in Taurus 2nd House, Moon in Sagittarius 9th House, with Pisces Rising.
Rodden Rating
The accuracy of the natal data for this archive is rated as DD
DISCLAIMER: Given the Rodden classification of DD, house boundaries (including the main axis/glyph) and the degree of the moon, AC and MC points should not be relied upon, however, the signs and the degrees of the rest of the planets, including the planetary aspects, are reliable
Sabian Symbols
Influenced by Surrealism
Natal Data
1950-05-05 03:05:00 LMT
35° 43′ 18.7″ N 51° 20′ 4.9″ E
Tehran, Tehran Province, Iran
1x Records. Last Queried Dec 2, 2023 12:07 AM GMT