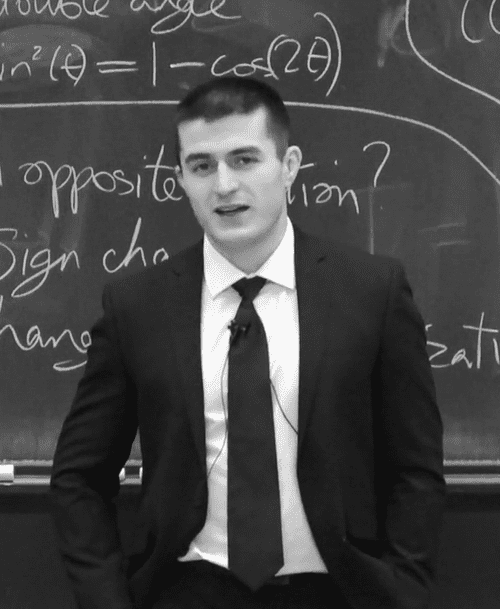 Attribution: lexfridman, CC0, via Wikimedia Commons
Lex Fridman
Lex Fridman (born 15 August 1983,[2][3]/'lɛks 'friːdmæn/; FREED-man) is a Russian-American computer scientist and podcaster. He hosts the Lex Fridman Podcast.
Fridman was born in Chkalovsk, Tajikistan (at that point the Tajik SSR was part of the Soviet Union). He is of Jewish descent.[4][5][6] His father is plasma physicist Alexander Fridman, a professor at Drexel University.[7][8] His brother is Gregory Fridman, also a researcher in plasma physics.[9]
When he was about 11, Fridman's family moved from Russia to the Chicago area.[2] He attended Neuqua Valley High School in Naperville, Illinois.[10] He then went on to obtain BS and MS degrees in computer science at Drexel University in 2010,[11] and completed his PhD in electrical and computer engineering at Drexel in 2014.[12] His PhD dissertation, Learning of Identity from Behavioral Biometrics for Active Authentication, was completed under the advisement of engineering educators Moshe Kam and Steven Weber and sought to "investigate the problem of active authentication on desktop computers and mobile devices".[13]
In 2014, Fridman joined Google but left the company after six months. In 2015, he moved to MIT's AgeLab to work on "psychology and big-data analytics to understand driver behavior."[2]
In 2019, Fridman published a study on Tesla Autopilot finding that drivers using semi-autonomous vehicles stayed focused, contrasting with established research on how humans interact with automated systems. The study's methodology was criticized by peers. Missy Cummings, a professor at Duke University and advisor for the National Highway Traffic Safety Administration described it as "deeply flawed".[2] AI researcher Anima Anandkumar suggested Fridman should submit his study for peer review before seeking press coverage, and in response, Fridman blocked her and many of her colleagues.[2] Following his Tesla Autopilot study, Fridman was invited to Tesla office's for an interview with Elon Musk.[2] The study was later removed from MIT's website.[2]
In 2019, he left AgeLab and took up an unpaid role in the department of aeronautics and astronautics.[2] As of 2023, he is a research scientist at the MIT Laboratory for Information and Decision Systems.[14][15]
Fridman began his podcast in 2018. It was originally titled "The Artificial Intelligence Podcast", but changed to "The Lex Fridman Podcast" in 2020. By April 2023, Fridman had recorded more than 350 episodes which have been described as "hourslong conversations" by Business Insider.[2]
The podcasts has hosted, among others, Elon Musk, Kanye West, Benjamin Netanyahu, Ben Shapiro, and Robert F. Kennedy Jr.[16] Other notable guests have included Chess grandmaster Magnus Carlsen,[17] hedge fund manager Ray Dalio,[18] and technology executives Jack Dorsey[19] and Mark Zuckerberg.[20]
Fridman has publicly stated his intention to interview controversial figures, across political divides, with an emphasis on empathy and compassion for whomever he interviews.[21]
He's made clear his invitation to separately interview both Vladimir Putin and Volodymyr Zelenskyy,[21] current leaders of countries at war.
However, the most recent, actualized example of Fridman's trans-political podcasting is his sequential interviews with Benjamin Netanyahu, Yuval Noah Harari and Mohammed El-Kurd. In these interviews, among other questions and points of conversation, Fridman discusses the Israeli-Palestinian Conflict with the current president of Israel, an Israeli author/historian and a Palestinian poet/activist opposed to Israel. Nasim Ahmed of MEMO described the podcast with El-Kurd as humanizing of the Palestinian people, different from how Palestinians are described in Israeli media.[22]
Nathan J. Robinson of Current Affairs wrote that, "Fridman is not an idealogue and seems genuine in his desire to empathetically understand leftists (he has also interviewed Richard Wolff, Steve Keen, and Noam Chomsky) and to be fair to all sides (he has hosted a debate between "skeptical environmentalist" Bjorn Lomborg and climate journalist Andrew Revkin." However, Robinson goes on to criticize Fridman, saying that "the Fridman podcast is an excellent way to see how the posture of neutrality actually fails to adequately challenge falsehoods and toxic beliefs." [21]
According to research experts interviewed by Business Insider in April 2023, Fridman "lacks the publications, citations and conference appearances required to be taken seriously in the hypercompetitive world of academia".[2] Computational biologist Lior Pachter said "some scientists and academics fear Fridman is contributing to the 'cacophony of misinformation'", while another AI researcher thought that Fridman may have "abandoned academic rigor in pursuit of fame". In contrast, his former colleague Sertac Karaman, LIDS's director, stated: "Dr. Fridman has been a research scientist at MIT LIDS and in our research group. I have known him for many years, and been very impressed by his ideas and his research accomplishments."[2]
Source: https://en.wikipedia.org/wiki/Lex_Fridman#cite_note-3
Summary
Lex Fridman has Sun in Leo, Moon in Scorpio.
Rodden Rating
The accuracy of the natal data for this archive is rated as X
DISCLAIMER: Lex Fridman doesn't have a recorded birth time, therefore, house boundaries (including the main axis/glyph) and the degrees of the moon, AC and MC point cannot be relied upon, however, the signs and degrees of the rest of the planets, including the planetary aspects, are reliable.
Sabian Symbols
Influenced by Cyberpunk
Natal Data
1983-08-15 Unknown Time LMT
39° 42′ 38.8″ N 68° 48′ 12.4″ E
Ishkly, Tajikistan
1x Records. Last Queried Dec 2, 2023 12:23 AM GMT