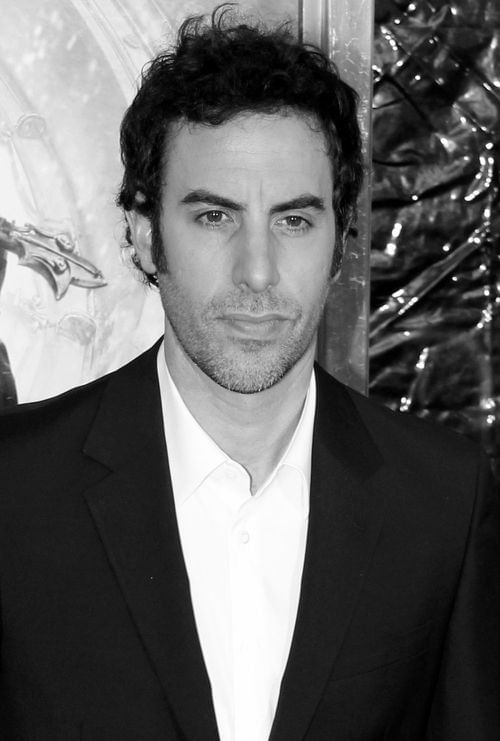 Sacha Baron Cohen
Sacha Noam Baron Cohen (English: /ˈsɑːʃə nəʊ ˈbærən ˈkəʊən/; Hebrew: סָשָׁה נֹעַם בָּרוֹן כֹּהֵן; born 13 October 1971) is a British comedian, actor, writer and producer. He is best known for his creation and portrayal of the fictional satirical characters Ali G, Borat Sagdiyev, Brüno Gehard, and Admiral General Aladeen. His characters interact with unsuspecting subjects who do not realise they have been set up. At the 2012 British Comedy Awards, Baron Cohen received the Outstanding Achievement Award and accepted the award in-character as Ali G. In 2013, he received the BAFTA Charlie Chaplin Britannia Award for Excellence in Comedy. In 2018, The Times named him among the 30 best living comedians.
Beginning his career in television, Baron Cohen was named Best Newcomer at the 1999 British Comedy Awards for The 11 O'Clock Show. He created and starred as his character Ali G in Da Ali G Show (2000–2004), receiving two BAFTA Awards. His next television project, Who Is America? (2018) for Showtime, saw him nominated for a Golden Globe Award for Best Actor – Television Series Musical or Comedy. In 2019, he portrayed Eli Cohen in the limited series The Spy for OCS and Netflix, for which he received a nomination for the Golden Globe Award for Best Actor – Miniseries or Television Film.
Baron Cohen has produced and/or performed in comedic films, such as Ali G Indahouse (2002), Borat (2006) and its sequel Borat Subsequent Moviefilm (2020), Talladega Nights: The Ballad of Ricky Bobby (2006), Brüno (2009), and The Dictator (2012). He has also appeared in dramatic films including Sweeney Todd: The Demon Barber of Fleet Street (2007), Hugo (2011), Les Misérables (2012), and The Trial of the Chicago 7 (2020). In 2016, he starred in Grimsby and co-starred in Alice Through the Looking Glass. His voice acting roles include King Julien XIII in the Madagascar film series (2005–2012) and Uncle Ugo in Luca (2021).
Baron Cohen has two nominations for the Academy Award for Best Adapted Screenplay, three Golden Globe Award nominations, resulting in two wins for Best Actor – Motion Picture Musical or Comedy for his work in the feature film Borat and its sequel. In 2021, he received Academy Award, Golden Globe Award, and Screen Actors Guild Award nominations for his performance as Abbot "Abbie" Hoffman in The Trial of the Chicago 7. He has been a member of the Academy of Motion Picture Arts and Sciences in the Actors Branch since 2008.[1]
Summary
Sacha Baron Cohen has Sun in Libra, Moon in Leo.
Rodden Rating
The accuracy of the natal data for this archive is rated as X
DISCLAIMER: Sacha Baron Cohen doesn't have a recorded birth time, therefore, house boundaries (including the main axis/glyph) and the degrees of the moon, AC and MC point cannot be relied upon, however, the signs and degrees of the rest of the planets, including the planetary aspects, are reliable.
Analysis for Sacha Baron Cohen
Sabian Symbols
Influenced by Pablo Picasso
Natal Data
1971-10-13 Unknown Time GMT
51° 30′ 26.0″ N 0° 7′ 39.3″ W
London, UK
1x Records. Last Queried Dec 2, 2023 12:07 AM GMT