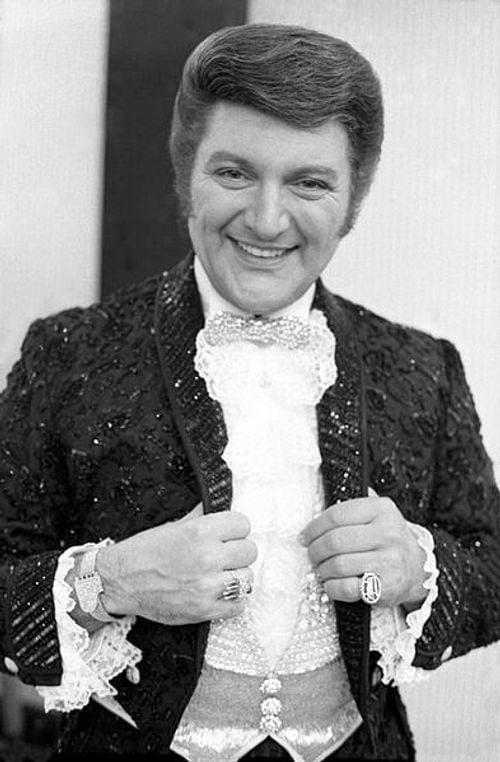 Liberace
Władziu Valentino Liberace[nb 1] (May 16, 1919 – February 4, 1987) was an American pianist, singer, and actor.[2] A child prodigy born in Wisconsin to parents of Italian and Polish origin, he enjoyed a career spanning four decades of concerts, recordings, television, motion pictures, and endorsements. At the height of his fame from the 1950s to 1970s, he was the highest-paid entertainer in the world[3] with established concert residencies in Las Vegas and an international touring schedule. He embraced a lifestyle of flamboyant excess both on and off stage.
From an early age, Liberace displayed an exceptional talent for the piano. He received formal training and quickly developed a distinctive and highly virtuosic playing style. His performances seamlessly blended classical music with popular tunes, showcasing his versatility and ability to captivate audiences from all walks of life.
Liberace's career took off in the 1950s when he started making appearances on television and headlining lavish stage shows in Las Vegas. His concerts were not just musical performances but theatrical extravaganzas, featuring elaborate costumes, dazzling jewelry, and grand pianos adorned with crystals. His larger-than-life personality, combined with his exceptional musical talent, made him a beloved entertainer.
Beyond his music, Liberace became a pop culture icon known for his flamboyant and opulent lifestyle. He embraced a distinct sense of fashion, with his trademark sequined jackets, candelabra-adorned pianos, and lavish sets. Liberace's charm and wit endeared him to audiences, as he created a persona that was both extravagant and approachable.
Throughout his career, Liberace released numerous albums and had chart-topping hits. He showcased his vocal talents alongside his piano performances, enchanting listeners with his rich voice. His music spanned various genres, including classical, pop, and Broadway, further showcasing his versatility as an artist.
Despite his immense success, Liberace faced criticism and controversy due to his flamboyant lifestyle and attempts to keep his personal life private. In the 1950s and 1960s, he often faced speculation about his sexuality, and he consistently denied being gay. However, his private life became a subject of scrutiny, and in the late 1970s, his former lover filed a highly publicized palimony lawsuit.
Liberace's career continued to thrive throughout the 1980s, despite health issues. He remained a beloved performer, and his shows continued to draw large crowds. Tragically, Liberace's life was cut short when he passed away on February 4, 1987, due to complications from AIDS. His death brought attention to the disease and helped raise awareness about its impact.
Liberace's legacy endures as an icon of showmanship and musical artistry. His influence can be seen in the performances of contemporary artists who embrace theatricality and spectacle. Liberace's impact on popular culture and his dedication to entertaining and delighting audiences solidify his place as one of the greatest entertainers of his time.
Summary
Liberace has Sun in Taurus 4th House, Moon in Sagittarius 12th House, with Capricorn Rising.
Rodden Rating
The accuracy of the natal data for this archive is rated as AA
Sabian Symbols
Influenced by Cyberpunk
Natal Data
1919-05-16 23:15:00 LMT
43° 1′ 0.1″ N 88° 0′ 25.3″ W
West Allis, WI, USA
1x Records. Last Queried Dec 2, 2023 12:04 AM GMT