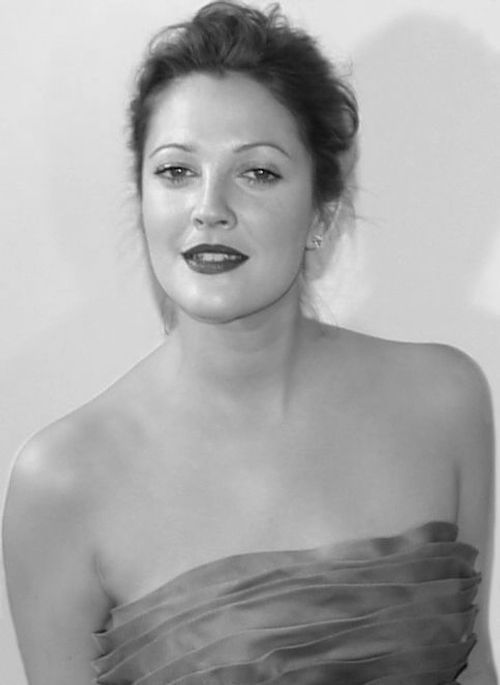 Drew Barrymore
Drew Blythe Barrymore (born February 22, 1975)[1] is an American actress, producer, director, talk show host, author and businesswoman. A member of the Barrymore family of actors, she has received several awards and nominations, including a Golden Globe Award and a Screen Actors Guild Award, in addition to nominations for seven Emmy Awards and a British Academy Film Award. She received a star on the Hollywood Walk of Fame in 2004.
Barrymore achieved fame as a child actress with her breakout role in E.T. the Extra-Terrestrial. Following a highly publicized childhood marked by drug and alcohol abuse, she released an autobiography Little Girl Lost, which became a New York Times bestseller.[1] She starred in a string of successful films during the 1990s and 2000s, including Charlie's Angels, Never Been Kissed, Poison Ivy, Boys on the Side, Mad Love, Batman Forever, Scream and Ever After. Barrymore starred with Adam Sandler in the films: The Wedding Singer, 50 First Dates and Blended. Her other films include Firestarter, Donnie Darko, Riding in Cars with Boys, Confessions of a Dangerous Mind, Charlie's Angels: Full Throttle, Fever Pitch, Music and Lyrics, Going the Distance, Big Miracle, and Miss You Already. She also starred in her directorial debut film Whip It. She won a Screen Actors Guild Award and a Golden Globe Award for her role in Grey Gardens. She starred in the Netflix series Santa Clarita Diet and currently hosts her syndicated talk show The Drew Barrymore Show.
Barrymore is the founder of the production company Flower Films. It produced several projects in which she has starred. She launched a range of cosmetics under the Flower banner in 2013, which has grown to include lines in perfume, hair products and eyewear.[2] Her other business ventures include a range of wines,[3] homeware and clothing.[4] In 2014, Barrymore released the New York Times bestselling photobook Find It in Everything of photographs she had taken over the span of a decade of everyday situations in the shape of a heart, including a discarded straw wrapper, a hole in a T-shirt and a scallion in a bowl of miso soup.[5][6] E. P. Dutton published a collection of Barrymore's autobiographical essays in her New York Times bestselling book Wildflower in 2015, for which she also narrated the audiobook version.[7][8]
Summary
Drew Barrymore has Sun in Pisces 10th House, Moon in Cancer 2nd House, with Gemini Rising.
Rodden Rating
The accuracy of the natal data for this archive is rated as AA
Analysis for Drew Barrymore
Sabian Symbols
Influenced by Claude Monet
Natal Data
1975-02-22 11:51:00 LMT
34° 1′ 16.0″ N 118° 23′ 47.3″ W
Culver City, CA, USA
1x Records. Last Queried Dec 2, 2023 12:03 AM GMT