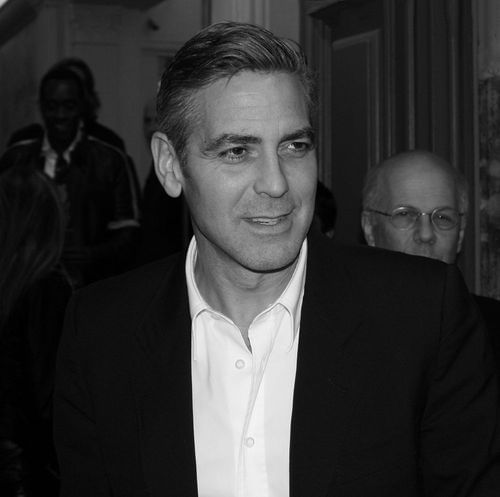 George Clooney
George Timothy Clooney[2] (born May 6, 1961) is an American actor and filmmaker. He is the recipient of numerous accolades, including a British Academy Film Award, four Golden Globe Awards, four Screen Actors Guild Awards, and two Academy Awards, one for his acting and the other as a producer. In 2018, he was the recipient of the AFI Life Achievement Award.[3]
Clooney started his career in television, gaining wide recognition in his role as Dr. Doug Ross on the NBC medical drama ER from 1994 to 1999, for which he received two Primetime Emmy Award nominations. During this time he would also attract a variety of leading roles in films, with his breakthrough role in From Dusk till Dawn (1996).[4][5] He continued starring in films such as the superhero film Batman & Robin (1997), and Steven Soderbergh's Out of Sight (1998), David O. Russell's Three Kings, and the Coen brothers' O Brother, Where Art Thou? (2000).
In 2001, Clooney's fame widened with the release of his biggest commercial success, Soderbergh's heist comedy remake Ocean's Eleven, the first of what became a trilogy, starring Clooney. He made his directorial debut a year later with the spy drama Confessions of a Dangerous Mind, and has since directed the historical drama Good Night, and Good Luck (2005), the sports comedy Leatherheads (2008), the political drama The Ides of March (2011), the war film The Monuments Men (2014), and the science fiction film The Midnight Sky (2020). Clooney won an Academy Award for Best Supporting Actor for the Middle East thriller Syriana (2005), and subsequently earned Best Actor nominations for the legal thriller Michael Clayton (2007), the comedy-dramas Up in the Air (2009) and The Descendants (2011). He received the Academy Award for Best Picture for producing the political thriller Argo (2012). He also starred in Burn After Reading (2008), The American (2010), Gravity (2013), and Hail, Caesar! (2016).
As of 2022, Clooney is one of three people to have been nominated for Academy Awards in six different categories, a position shared with Walt Disney and Alfonso Cuarón, and second only to Kenneth Branagh (with seven), and with Brad Pitt is one of only two actors to have won both the Academy Awards for Best Supporting Actor and Best Picture.[6][7] Clooney was included on Time's annual Time 100 list, which identifies the most influential people in the world, every year from 2006 to 2009.[8] He is also noted for his political and economic activism, and has served as one of the United Nations Messengers of Peace since January 31, 2008.[9][10][11] Clooney is also a member of the Council on Foreign Relations.[12] He is married to human rights lawyer Amal Clooney (née Alamuddin).
Summary
George Clooney has Sun in Taurus 2nd House, Moon in Capricorn 11th House, with Pisces Rising.
Rodden Rating
The accuracy of the natal data for this archive is rated as AA
Analysis for George Clooney
Sabian Symbols
Influenced by Baroque
Natal Data
1961-05-06 07:58:00 GMT
38° 2′ 26.1″ N 84° 30′ 13.4″ W
Lexington, KY, USA
1x Records. Last Queried Dec 2, 2023 12:02 AM GMT