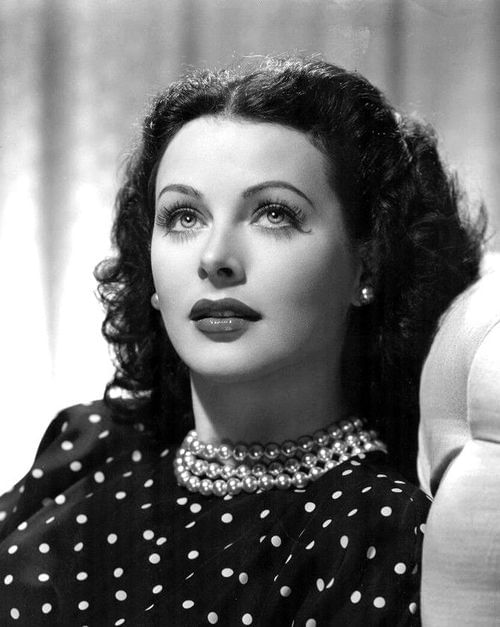 Attribution: eBay, Public domain, via Wikimedia Commons
Hedy Lamarr
Hedy Lamarr (/ˈhɛdi/; born Hedwig Eva Maria Kiesler; November 9, 1914[a] – January 19, 2000) was an Austrian-born Austro-Hungarian-American film actress and inventor.[2] She was a film star during Hollywood's golden age.[3]
After a brief early film career in Czechoslovakia, including the controversial Ecstasy (1933), she fled from her first husband, a wealthy Austrian ammunition manufacturer, and secretly moved to Paris. Traveling to London, she met Metro-Goldwyn-Mayer studio head Louis B. Mayer, who offered her a movie contract in Hollywood. She became a film star with her performance in Algiers (1938).[4] Her MGM films include Lady of the Tropics (1939), Boom Town (1940), H.M. Pulham, Esq. (1941), and White Cargo (1942). Her greatest success was as Delilah in Cecil B. DeMille's Bible-inspired Samson and Delilah (1949).[5] She also acted on television before the release of her final film, The Female Animal (1958). She was honored with a star on the Hollywood Walk of Fame in 1960.
At the beginning of World War II, she and avant-garde composer George Antheil developed a radio guidance system for Allied torpedoes that used spread spectrum and frequency hopping technology to defeat the threat of jamming by the Axis powers.[6]
Summary
Hedy Lamarr has Sun in Scorpio 5th House, Moon in Leo 2nd House, with Cancer Rising.
Rodden Rating
The accuracy of the natal data for this archive is rated as AA
Sabian Symbols
Influenced by Steampunk
Natal Data
1914-11-09 19:30:00 LMT
48° 12′ 29.4″ N 16° 22′ 25.7″ E
Vienna, Austria
1x Records. Last Queried Dec 2, 2023 12:03 AM GMT