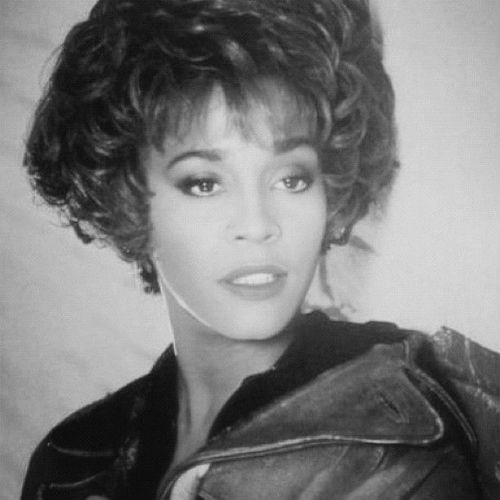 Whitney Houston
Whitney Elizabeth Houston (August 9, 1963 – February 11, 2012) was an American singer and actress. Nicknamed "The Voice", she is one of the bestselling music artists of all time, with over 200 million records sold worldwide.[1] In 2023, Rolling Stone named her the second-greatest singer of all time.[2] Houston influenced many singers in popular music, and was known for her powerful, soulful vocals, vocal improvisation skills, and use of gospel singing techniques in pop music.[3][4] She had 11 number-one singles on the Billboard Hot 100 and is the only artist to have seven consecutive number-one singles on the chart.[a] Her accolades include eight Grammy Awards, 16 Billboard Music Awards, two Emmy Awards, and 28 Guinness World Records. Houston's inductions include the Grammy Hall of Fame (twice), the Rock and Roll Hall of Fame, the Rhythm and Blues Music Hall of Fame, the Georgia Music Hall of Fame, the New Jersey Hall of Fame, and the National Recording Registry at the Library of Congress.
Houston began singing in church as a child and became a background vocalist while in high school. She was one of the first black women to appear on the cover of Seventeen after becoming a teen model in 1981. With the guidance of Arista Records chairman Clive Davis, Houston signed to the label at age 19. Her first two studio albums, Whitney Houston (1985) and Whitney (1987), both peaked at number one on the Billboard 200 and are among the best-selling albums of all time. Hit singles from the albums, including "How Will I Know", "Greatest Love of All" and "I Wanna Dance with Somebody (Who Loves Me)", established Houston as a catalyst in the acceptance of black female artists on the MTV. Her third studio album, I'm Your Baby Tonight (1990), yielded two Billboard Hot 100 number-one singles, the title track and "All the Man That I Need". Houston's rendition of "The Star-Spangled Banner" at Super Bowl XXV in 1991 received widespread media coverage.
Houston made her acting debut with the romantic thriller film The Bodyguard (1992), which despite its mixed reviews became the tenth highest-grossing film to that date. Its soundtrack won the Grammy Award for Album of the Year and remains the bestselling soundtrack album of all time. It generated multiple hit singles, including "I Have Nothing", "I'm Every Woman" and "I Will Always Love You"; the latter won the Grammy Award for Record of the Year, spent a then-record 14 weeks atop the Billboard Hot 100 and became the best-selling physical single by a woman in music history. Subsequently, Houston went on to star in the films Waiting to Exhale (1995) and The Preacher's Wife (1996), and she recorded their respective soundtracks; the former scored Houston's last Billboard Hot 100 number-one single, "Exhale (Shoop Shoop)", while the latter, produced by Houston herself, became the bestselling gospel album of all time. As a film producer, she produced multicultural movies such as Cinderella (1997) and series such as The Princess Diaries and The Cheetah Girls.
Houston's first studio album in eight years, My Love Is Your Love (1998), spawned several hit singles, including the title track, "Heartbreak Hotel", "It's Not Right but It's Okay" and the Academy Award-winning Mariah Carey duet "When You Believe". Following the success, she renewed her contract with Arista for $100 million, one of the biggest recording deals of all time.[5] However, her personal problems began to overshadow her career. Her 2002 studio album, Just Whitney, received mixed reviews, while her drug use and a tumultuous marriage to singer Bobby Brown received widespread media coverage. Houston returned to the top of the Billboard 200 chart with her final studio album, I Look to You (2009). On February 11, 2012, Houston accidentally drowned in a bathtub at the Beverly Hilton hotel in Beverly Hills, with heart disease and cocaine use as contributing factors. News of her death coincided with the 2012 Grammy Awards, which took place the day following her death, and was covered internationally. Her life and career were dramatized in the 2022 biopic I Wanna Dance with Somebody.
Summary
Whitney Houston has Sun in Leo 6th House, Moon in Aries 1st House, with Pisces Rising.
Rodden Rating
The accuracy of the natal data for this archive is rated as AA
Analysis for Whitney Houston
Sabian Symbols
Influenced by Traditional Japanese Art
Natal Data
1963-08-09 20:55:00 LMT
40° 44′ 8.4″ N 74° 10′ 20.5″ W
Newark, NJ, USA
1x Records. Last Queried Dec 2, 2023 12:06 AM GMT