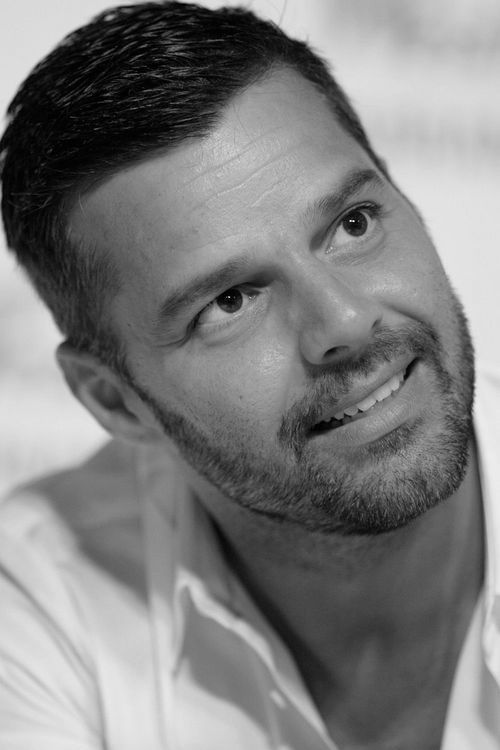 Ricky Martin
Enrique Martín Morales[a] (born December 24, 1971), known professionally as Ricky Martin, is a Puerto Rican singer, songwriter, and actor. He is known for his musical versatility, with his discography spanning multiple genres, including Latin pop, pop, dance, reggaeton, and salsa. Dubbed the "King of Latin Pop", the "King of Latin Music", and the "Latin Pop God", he is regarded as one of the most influential artists in the world. Born in San Juan, Martin began appearing in television commercials at age nine and began his musical career at twelve, as a member of Puerto Rican boy band Menudo. He began his solo career in 1991 while in Sony Music Mexico, gaining recognition in Latin America with the release of his first two studio albums, Ricky Martin (1991) and Me Amaras (1993), both of which were focused on ballads.
Martin's third album, A Medio Vivir (1995), helped him rise to prominence in European countries. The chart-topping single "María", incorporated a mixture of Latin music genres and became his first international hit. His international success was further solidified with his fourth album, Vuelve (1998). The album, which earned Martin his first Grammy Award, spawned chart-topping hits "Vuelve" and "La Copa de la Vida". Martin performed the latter at the 41st Annual Grammy Awards, which was greeted with a massive standing ovation and is known as a game-changer for Latin music worldwide. His first English album, Ricky Martin (1999) became his first US Billboard 200 number one. The lead single "Livin' la Vida Loca" is considered to be Martin's biggest hit, topping both the Billboard Hot 100 and the UK Singles Chart. Martin's success in the late 1990s is generally seen as the beginning of the "Latin explosion". He has been credited for propelling the Latin pop music genre to mainstream recognition, paving the way for a large number of Latin artists to achieve global success.
Martin has since established his status as a pop icon and a sex symbol, releasing several successful albums, including all-time Latin bestsellers Almas del Silencio (2003) and MTV Unplugged (2006), as well as Grammy Award winner A Quien Quiera Escuchar (2015). He has also amassed many successful singles and chart-topper hits, including "She Bangs", "Nobody Wants to Be Lonely", "Tal Vez", "Tu Recuerdo", "La Mordidita", "Vente Pa' Ca", and "Canción Bonita". As an actor, Martin gained popularity and stardom for his role in the hit soap opera General Hospital (1994–1996), while his portrayal of Antonio D'Amico in The Assassination of Gianni Versace: American Crime Story (2018) marked the acting opportunity of his career, garnering him an Emmy nomination. He also starred as Ché in the Broadway revival of the musical Evita in 2012, which broke the theater's box-office sales record seven times.
Martin is one of the best-selling Latin music artists of all time, having sold over 70 million records worldwide. He has scored 11 Billboard Hot Latin Songs number-one songs, and won over 200 awards (most
awarded male Latin artist), including two Grammy Awards, five Latin Grammy Awards, five MTV Video Music Awards (tied for most wins by a Latin artist), two American Music Awards, three Latin American Music Awards, three Billboard Music Awards, nine Billboard Latin Music Awards, eight World Music Awards, fourteen Lo Nuestro Awards, a Guinness World Record, and a star on the Hollywood Walk of Fame. He is ranked among the Greatest Latin Artists of All Time, the Greatest Music Video Artists of All Time, and the Most Influential Latin Artists of All Time by Billboard. His philanthropy and activism focus on LGBT rights and fighting against human trafficking; in 2004, he founded The Ricky Martin Foundation, a non-profit, non-governmental organization that focuses on denouncing human trafficking and educating about the crime's existence.
Summary
Ricky Martin has Sun in Capricorn 7th House, Moon in Pisces 10th House, with Gemini Rising.
Rodden Rating
The accuracy of the natal data for this archive is rated as AA
Analysis for Ricky Martin
Sabian Symbols
Influenced by Renaissance
Natal Data
1971-12-24 17:00:00 LMT
18° 28′ 1.4″ N 66° 7′ 6.5″ W
San Juan, Puerto Rico
1x Records. Last Queried Dec 2, 2023 12:00 AM GMT