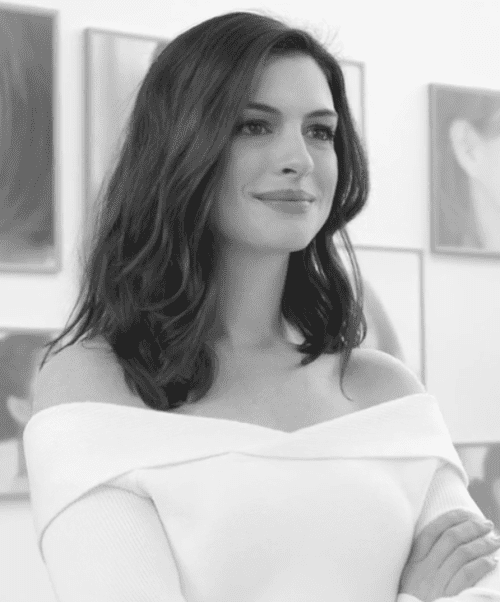 Anne Hathaway
Anne Jacqueline Hathaway (born November 12, 1982) is an American actress. Her accolades include an Academy Award, a British Academy Film Award, a Golden Globe Award, and a Primetime Emmy Award. Her films have grossed over $6.8 billion worldwide, and she appeared on the Forbes Celebrity 100 list in 2009. She was among the world's highest-paid actresses in 2015.
Hathaway performed in several plays in high school. As a teenager, she was cast in the television series Get Real (1999–2000) and made her breakthrough by playing the lead role in the Disney comedy The Princess Diaries (2001). After starring in a string of family films, including Ella Enchanted (2004), Hathaway made a transition to adult roles with the 2005 drama Brokeback Mountain. The comedy-drama The Devil Wears Prada (2006), in which she played an assistant to a fashion magazine editor, was her biggest commercial success to that point. She played a recovering addict in the drama Rachel Getting Married (2008), which earned her a nomination for the Academy Award for Best Actress.
Hathaway went on to star in several commercially successful films, including the comedy Get Smart (2008), the romances Bride Wars (2009), Valentine's Day (2010), and Love & Other Drugs (2010), and the fantasy film Alice in Wonderland (2010). In 2012, she starred as Catwoman in her highest-grossing film, The Dark Knight Rises, and played Fantine, a prostitute dying of tuberculosis, in the musical Les Misérables, winning the Academy Award for Best Supporting Actress. She has since played a scientist in the science fiction film Interstellar (2014), the owner of a fashion website in the comedy The Intern (2015), a haughty actress in the heist film Ocean's 8 (2018), a con artist in the comedy The Hustle (2019), and Rebekah Neumann in the miniseries WeCrashed (2022).
Hathaway has won a Primetime Emmy Award for her voice role in the sitcom The Simpsons, sung for soundtracks, appeared on stage, and hosted events. She supports several charitable causes. She is a board member of the Lollipop Theatre Network, an organization that brings films to children in hospitals, and advocates for gender equality as a UN Women goodwill ambassador. Hathaway is married to actor and businessman Adam Shulman and has two sons with him.
Source: https://en.wikipedia.org/wiki/Anne_Hathaway
***Disclaimer: The birth time/ rating used here is courtesy of Astrotheme. The axis, and the degrees of the moon and lunar nodes are NOT to be relied upon.
Summary
Anne Hathaway has Sun in Scorpio 11th House, Moon in Libra 10th House, with Sagittarius Rising.
Rodden Rating
The accuracy of the natal data for this archive is rated as C
Analysis for Anne Hathaway
Sabian Symbols
Influenced by Pop Art
Natal Data
1982-11-12 09:00:00 LMT
40° 40′ 41.4″ N 73° 56′ 39.0″ W
Brooklyn, NY, USA
1x Records. Last Queried Dec 2, 2023 12:04 AM GMT